View of the Kuala Lumpur skyline.
Despite weak market sentiment, the weakening ringgit, stable rental yields, a slew of infrastructure improvements coupled with the completion of mega developments continue to attract foreign investors to Malaysia's property market.
By Michelle Yee
Despite the present challenging market condition and slowing economy caused by several factors such as low crude oil and commodity prices coupled with geo-political issues worldwide, those looking for good investment opportunities can still expect to find good deals in Malaysia, namely Johor Bahru, Kuala Lumpur and Malacca, experts said.
Although the property market in Johor Bahru has been lacklustre since the beginning of the year, especially with China's capital controls on outflow of funds to overseas investments, experts feel that the market will gain strength upon recovery of the national and regional economy.
As such, foreign buyers are well-positioned to make a foray into Johor Bahru's property market, where property prices are lower than in neighbouring Singapore, and there are also plenty of choices.
Some of the projects that are available for buyers' selection include the famous four-island, integrated project Forest City, developed by Chinese developer Country Garden; Pengerang Integrated Petroleum Complex; Senibong Cove – a 84ha, 5,000-unit luxury residential development; UM Land's Suasana Iskandar Malaysia, an integrated development comprising a 36-storey serviced residence tower, a hotel, as well as retail and entertainment complex; and Shama Medini, a serviced apartment complex built on top of a shopping mall in the mixed-use development of UMCity Medini Lakeside.
Local developers are bracing for an extended quiet period as potential buyers and investors are now spoilt for choice with numerous ongoing projects giving generous incentives and rebates. Nevertheless, we note that the secondary market for landed properties below RM600,000 (S$192,518) per unit are still in demand.
Why invest in Johor Bahru?
A booming economy
A slew of infrastructure improvements and mega developments, coupled with plenty of foreign direct investments, look set to help Johor Bahru achieve its goal of becoming the new economic powerhouse in the country.
An online news report by the New Straits Times revealed that the state recently scored a major deal with several Japanese corporations valued at nearly RM2 billion, which will not only boost the state's economy but create more job opportunities.
The report added that the deal involves prominent players from Japan investing in the Tanjung Langsat Industrial Park in Pasir Gudang.
To date, numerous foreign multinational companies (MNCs) have relocated their facilities to Johor including Microsoft, which is building a data centre in Sedanak; Coca-Cola, too, has moved its previous location in Tuas, Singapore to Iskandar Malaysia; and Alibaba has announced plans to set up a logistics hub in Johor, which is slated to be completed by the end of 2019.
According to data from the Malaysian Industrial Development Authority (MIDA), Johor's manufacturing sector attracted more than RM18 billion in total proposed capital investment from January to September 2016 – the highest among all the states in the country – with the ratio of domestic to foreign investment at 52:48 percent.
Although there are concerns that Johor's property market currently has an oversupply of residential projects, property consultancy JLL offered some assurance that this issue will be solved once these factories and offices are opened, bringing with them potential tenants.
Buying guide
"For the state of Johor, there is a minimum RM1 million (S$320,864) purchase price required for foreigners. There is an exemption however in Medini, where foreigners can purchase at any price point, even below RM1 million. Foreigners also have to make a one-off payment of 2.0 percent of the purchase price for every purchase. Otherwise the rules for foreigners are pretty similar to Malaysians.
"Property tax rates, maintenance fees, fire insurance, are all charged at the same rates whether the buyer is a foreigner or Malaysian. Even banks in Malaysia are quite open to financing from Singaporeans, who can typically finance 70 to 80 percent of the property value," said Ryan Khoo, director at Alpha Marketing.
Abundant investment opportunities in Malaysia's capital
According to experts, those looking to invest in Malaysia's bustling capital city might want to consider entering the market now, as prices of luxury properties are at an all-time low, offering buyers with plenty of "value for money" deals.
"Generally, prices of KLCC luxury properties on the secondary market have dropped around 10 percent to 15 percent from two years ago," said Janet Chong, team manager at Hartamas Real Estate (OUG).
"Units at ViPod Residences @ KLCC used to be sold at an average of RM1,600 psf (S$513 psf) two years ago, but recently, I closed a deal there at RM1,200 psf (S$385 psf)," Chong noted. 
Sharing his thoughts on why investors should look to Malaysia's capital city, Erick Kho, CEO of Mapleland Properties said, "KLCC is certainly not affordable but it is full of potential as KL is the capital city of Malaysia, a place where multinational corporations (MNCs) and big corporations will want to have a presence. Once the economy recovers, there will be increased demand for residential property here.
"Major infrastructure developments, such as the MRT, Tun Razak Exchange (TRX) and the future High Speed Rail (HSR) will support the growth of these areas by creating more job and business opportunities.
"As the mega projects take place gradually, there will be a spillover effect onto the neighbouring areas such as Mont'Kiara, Damansara Heights and Mid Valley."
Why invest in Kuala Lumpur?
Bright prospects due to completion of major developments

"KL city area will continue to be vibrant as major top global hospitality brands such as Kempinski, Ritz Carlton Residences and W Hotel will be entering the KL market. There are also new brands planning to expand their presence in KL including SO Sofitel, Jumeirah and Waldolf Astoria.
"Besides that, the upcoming release of office space and residential developments in the TRX area will create another boom due to its position as Malaysia's financial district," shared Eric Lim, group managing director at Hartamas Real Estate.
Eddy Wong, managing director at Nawawi Tie Leung added, "In KL city centre, the TRX project looks very exciting. It is positioned as the new Central Business District for KL.
"The project will encompass an area of 70 acres, with some 10 million sq ft of office space, a two million sq ft retail mall and about 3,800 units of residences. It will have excellent connectivity, with easy access to highways such as the Maju Expressway and the SMART tunnel as well as an MRT station."
Charming Malacca draws investors
Located just 2.5 hours by car from Singapore, the historic and charming city of Malacca is fast becoming a hotspot for investors, thanks to a slew of mega developments that are currently underway. Strong tourist arrivals are another plus point for investors – revealed a report by Hatten Group, tourist receipts grew by 39.5 percent in 2015, the highest annual growth since 2010. And with the impending RM42 billion Melaka Gateway project, Malacca's popularity as a tourism destination is set to rise.
According to reports, real estate values in Malacca have also shot up by more than 400 percent over the past few years, from RM250 psf (S$84 psf) in 2008 to RM1,100 psf (S$369 psf) in 2015, thanks to the above-mentioned reasons, as well as its UNESCO world heritage status, which was awarded in 2008.
And experts say that prices are likely to continue an upward trend, attributed by upcoming mega developments and the HSR.
"Malacca has seen a steady increase in land prices over the years. With the HSR having a stop in Malacca, we will see tourism growing at an even more rapid pace, especially around the Air Keroh, Krubong, Durian Tunggal and Gapam areas.
"Furthermore, as the house prices in Seremban have increased tremendously in the past few years, Malacca will be the next "suburb" option for those who work in Klang Valley as they can commute via the HSR. There will be a growing demand for residential properties in the area and this would cause an increase in property prices down the road," Datuk Anthony Adam Cho, branch chairman of the Real Estate & Housing Developers Association Malaysia (REHDA) was quoted as saying in a recent interview.
Why invest in Malacca?
A slew of projects set to redefine the city
Another factor that is set to attract even more tourists to this charming city is the completion of several mega projects, namely Harbour City and SATORI – both developed by the Singapore Exchange listed, multi-award winning Hatten Land.
The former, which features a 30-storey building resembling a huge ship, reminiscent of Malacca's history as a famous port, will combine three elements in one development – an aquatic-themed shopping mall, a five-star hotel and a 500,000 sq ft water theme park, while the latter, which is the state's first wellness-themed mixed development, will consist of 192 serviced suites, an 85,250 sq ft retail mall, a 336-room hotel, and more than 50 world-class facilities.
The upcoming Malacca Gateway Project, which will comprise 12 precincts, is also set to attract visitors from around the world and boost the state's economy. Developed by KAJ Development (the master developer of the project) and Powerchina International Group, some of the planned facilities include a marina for yachts, luxury condominiums and bungalows with private marinas, tourist eco-parks, theme parks and ports for cruise ships.
The 12 precincts are Gateway Entertainment Precinct, Melaka Marina & Cruise Centre, Melaka Historical Walk, Gateway Maritime Arena & Beacon, Branded Fashion District, International Theme Park, Melaka Cultural Walk, Waterfront Marina Villas & Resorts, Gateway Wellness & Lifestyle Precinct, Melaka Skyline Apartments, Lohas Park & Residences and Eco Isle Resorts.
Once completed in 2025, the marina terminal is expected to be the largest private marina in Southeast Asia.
Buying guide
As compared to the other Malaysian cities, restrictions on foreign property ownership in Malacca are not as rigid. Foreigners only need to make a minimum investment of RM500,000 (S$160,432), versus RM1 million (S$320,864) in KL and Penang's RM1 million to RM2 million (S$320,864 to S$641,727).
FAST FACTS
(Malaysia) 
Population: 30.5 million
Total area: 330,803 sq km 

Currency: Ringgit
GDP per capita: US$9,503 (2016)
GDP growth: 5.0 percent
Future transport: High Speed Rail between KL and Singapore
Distance between Singapore and KL: 354 km 
---
INTERNATIONAL HIGHLIGHTS
These are just some of the new projects from established developers that will be exhibited at PropertyGuru's Malaysia Property Show.
NEW PROJECTS
MET 1 Residences
Kuala Lumpur
Developed by Naza TTDI, MET 1 Residences is part of an integrated township known as KL Metropolis.
Comprising a 55-storey serviced apartment and two en bloc Grade A office towers with two storeys of retail units, the residential component will offer 616 units from 677 sq ft to 1,613 sq ft.
Residents will enjoy access to a slew of amenities including the metropolis park (to be completed in 2018), the amphitheatre, boulev-art (sculpture park), children's dry playground, wet play area and the Malaysia International Trade & Exhibition Centre (MITEC). The development is also within proximity to four major highways.  
Type: Serviced apartment     
Developer: Naza TTDI
Facilities: Infinity pool, Jacuzzi, gym, barbecue area, sky lounge, children's playground
Nearby Key Amenities: MITEC, Hartamas Shopping Centre, schools
Nearest Transport: Major highways
Starting Price: S$189,310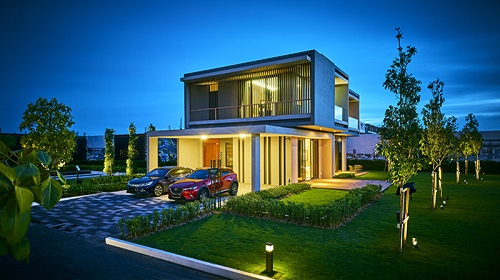 Eco Sanctuary
Kuala Lumpur  
Located just outside Kuala Lumpur, Eco Sanctuary is an eco-themed mixed-use development that spans across 308 acres of undulating greenery.
Comprising 260 units which range from semi-detached homes to zero-lot bungalows, bungalows and super bungalows, the built-ups range from 2,903 sq ft to 6,075 sq ft.
For recreational pursuits, residents can head to the 24,000 sq ft clubhouse, which comprises a 30m swimming pool with a Jacuzzi and timber decks, as well as an elevated gym.
Travelling to other parts of the city will prove to be a hassle-free experience as residents can easily gain access to various highways.  
Type: Landed houses
Developer: Eco Sanctuary Sdn Bhd
Facilities: Clubhouse, gym, swimming pool, Jacuzzi  
Nearby Key Amenities: Giant Hypermarket, banks, clinics, schools
Nearest Transport: Major highways
Starting Price: S$918,000
Sakura Residence
Iskandar Malaysia
Strategically located within Iskandar Malaysia, Sakura Residence @ Sunway Iskandar is the first luxury prefabricated landed property in Malaysia. Developed by Daiwa Sunway Development, the Japanese-designed gated development will comprise 100 homes.  
Each house is built to a high level of precision. Another highlight is the windows, which are fitted with insect screens to keep mosquitos and other pests at bay.
The development is just 5.0 km away from the Malaysia-Singapore Second Link via the Coastal Highway Southern Link. Sakura Residence is also located near Legoland Theme Park, Puteri Harbour, EduCity and Pinewood Iskandar Malaysia Studios.
Type: Landed houses
Developer: Daiwa Sunway Development  
Facilities: Private swimming pool, gym, barbecue pits, children's playground, 24-hour security
Nearby Key Amenities: Legoland Theme Park, EduCity, Pinewood Iskandar Malaysia Studios
Nearest Transport: Malaysia-Singapore Second Link, major highways
Starting Price: S$758,065
D'Lagoon
Johor Bahru
Developed by United Malayan Land (UMLand), D'Lagoon, which is a luxury residential development located by the lake, comprises 204 luxury apartments and 58 three-storey landed strata villas.
For those who are keen on the luxury apartments, there are three variations that span from over 807 sq ft to 1,033 sq ft.
Both luxury apartment and villa units are characterised by high ceilings and wide balconies that not only increase the living space, but also allow for creative interior design.
Other features include a glass-walled gym, swimming pool, jogging track, reading room and 24-hour guard patrol.
Type: Luxury apartments and villas
Developer: UMLand  
Facilities: Gym, swimming pool, jogging track, reading room, 24-hour security
Nearby Key Amenities: Shopping malls, banks, clinics, F&B outlets, schools
Nearest Transport: Major highways
Starting Price: S$157,800