Dark and bold colours, or light and neutral tones? Wooden finishes or satin brass? With the myriad of interior design options available today, homeowners can be suddenly at sea when having to decide how to freshen up their abode. Here, we look at the hottest interior design trends of 2017 to better guide you in making the relevant decisions for your home.
By Alym Tan
1) Scandinavian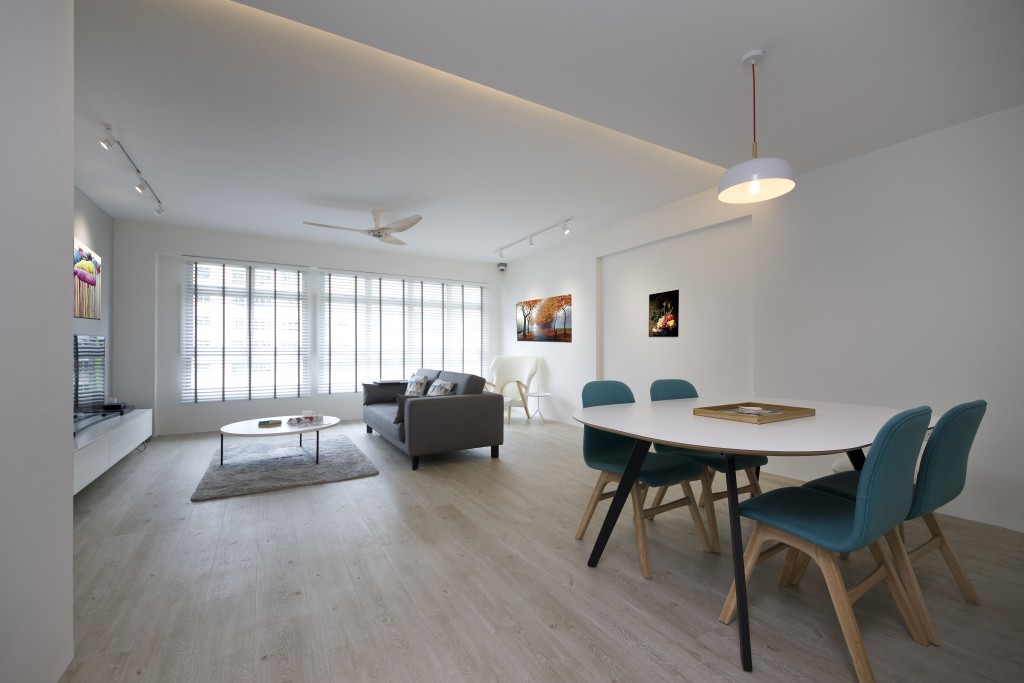 One of the longer lasting interior design trends around, the popularity of Scandinavian interior design remains strong. Functionality and simplicity are the hallmark of Scandinavian designs. Whitewashed walls, light tones and simple furniture make it pleasing for the eye. This serves a simple solution to a 'complex' problem – cluttered homes that want to look spacious.
"The homeowners wanted a bright, clean and airy home with lots of natural light – which is the standard for Scandinavian designs. Choice of furniture and décor pieces are key. Space planning is important too; decide what you would like to put and where first before you start shopping for it," says Koh Kay Wee of DB Studio.
Interior designer: DB Studio
---
2) Industrial
Industrial interior design is about a raw, unfinished look that is functional. While the trend has been around for years, it is still relatively new in the home décor world. The lovely charm is brought out by dark woods and metals – materials that are often hidden away. This design speaks to self-made individuals as well as homeowners looking for practicality.
Daniel Loi from Space Define Interior explains his design process: "The owner wanted an industrial design that was not too raw. By staying away from grey colours and implementing a brick wall, there was a touch of modernity to the overall look. Matte black was also used as it is an iconic colour for industrial design. Other colours that go well with an industrial look are white and grey, but if you want something brighter you could input those on a piece of furniture."
Interior designer: Space Define Interior
---
3) Retro
They say it takes about a decade or two for old trends to resurface. And it seems that the throwback trend on social media has influenced homes too, with the trending retro interior design. Old-school memorabilia, whether sentimental in value or not, are always fun to look at and to admire its quirkiness. Add that into the mix of washed out basic colours and interesting textures to get a home worthy of the title 'mini museum'.
"Our client wanted a nostalgic environment in the 80s era. Craftstones were used as the feature wall to create the old school feel of raw brick walls while cement effect homogeneous floor tiles were used to create the retro effect," explains Aclester Lim from Hue Concept Interior Design.
Interior designer: Hue Concept Interior Design  
---
4) Eco-friendly design
Two words. Global warming. As awareness of climate change gains momentum globally, Singaporean homes are starting to become eco-friendly – installing potted plants, adopting environmentally friendly materials, using energy-saving appliances and more. Latest trends are picking up on eco-friendliness and implementing them into their designs, so be sure to keep a look out of what is to come!
"Customers are our inspiration. After working closely with the owners on their needs and ideas, we came up with the part resort, part retro feel. Lighting is important as it adds to the expansive view," mentions Michael Ong of The Two Big Guys.
When asked about eco-friendly designs, he adds: "There is a demand for environmentally safer products such as vinyl flooring, LED lighting and water-saving faucets. In recent years, there have been more designs incorporating elements of wood and greens, along with consideration of natural lighting and the views of the balcony and windows."
Interior designer: The Two Big Guys
---
5) Satin brass
The best workaround for a luxurious feel, without spending that extra cash. Satin brass is warm with golden tones that, missing a high price tag, easily appeals to everyone alike. The versatile use of brass in the home – tables, chairs, ornaments, handles – make it an easy material to love and that is why it has stayed in trend.
Kevin Yeong from All About Designs shares: "The owner of the place wanted clean lines, coziness and sophistication infused into the décor of the house. The brassy look and feel exuded a feel of luxury, which complemented the sophistication in the décor. Beige, white, grey and earthy tones are good complementary colours for brass."
Interior designer: All About Designs
---
6) Tropical
When most of the trends point towards light tones and clean spaces, one took the road less travelled. The use of warm, earthy colours creates a special homely feeling. The dark muted tones and variety of wooden textures have a calming effect, and as busy individuals, that is something much craved for nowadays.
May Chang from Meter Square gives insight on the tropical design: "We wanted a modern resort feel that uses sharp edges to have a clean look. A word of advice for tropical design is that it has to look warm and cosy."
All in all, with all the trends and influences waxing and waning, 2017 has indeed been a very exciting year. Let's hope that 2018 ushers in trends that are even bigger and better than before!
Interior designer: Meter Square  
---
Article and images contributed by HomeRenoGuru and Nippon Paint.

Browse from over 500 IDs and 30,000 design inspirations and stand a chance to win a free renovation worth $30,000 from participating interior design firms at HomeRenoGuru today.
Compare design themes and renovation costs, and be informed of the latest ID promotional events and specific renovation deals for new BTO / condo launches. Download floorplans and save your favourite designs!