View of Pattaya beach in Thailand.
Reports show that Thailand is fast becoming one of the most popular destinations in the world to retire. We find out why.
By Michelle Yee
According to surveys conducted by industry experts, Thailand is one of the most popular tourist destinations in Southeast Asia, and for good reason. There is something for every interest and every budget here, whether you're a beach lover, culture vulture, foodie or shopaholic – the country brims with incredible cultural and historical sites, gorgeous beaches, lush tropical rainforests, bustling night markets, mega malls, great food and more. 
And now, the Land of Smiles is also rapidly gaining popularity among those seeking luxury retirement housing – the country placed 12th on International Living Magazine's 2017 Global Retirement Index, with top marks in its Entertainment & Amenities sub-index, and some of the reasons cited for their interest include lower cost of living, better quality of life, quality healthcare, and abundant food and relaxation choices, experts say.
"A nice living environment, competitive cost of living and more affordable high-quality nursing care have made Thailand an ideal home for senior people from developed economies. These include both independent living retirees and aged members in families that trust their parents would receive better care here," shares Suphin Mechuchep, managing director of JLL Thailand.
Echoing similar sentiments, Chris Delaney, managing director of Sunplay Asia says, "Forbes Magazine recently ranked Thailand as the world's ninth-best retirement destination, which is a real testament to the quality of life that can be found here.
"It's a very safe country where English is widely spoken, while the currency, economy and political environment are all considered stable. The cost of living is favourable, there's world-class road, rail and air links and of course a warm, comfortable climate throughout the year. 
"The ease with which retirement visas can be acquired is also a huge plus point. To currently qualify for a retirement visa, a homeowner must be at least 50 years of age, and show proof of an annual income exceeding US$2,000 (S$2,722) per month. Alternatively, they can show a bank account balance of at least US$25,000 (S$34,028)."
To attract even more retiree-expatriates, developers have taken luxury retirement housing in Thailand up a notch, so it is nothing like a typical accommodation with just standard facilities, but they are luxurious and well-built developments with a slew of age-related services included, such as medication management, bathing and washroom assistance, housekeeping and many more.
In Chon Buri, the Sunplay Bangsaray project encourages active retirees to live out their golden years in highly amenitised pool villas and condominiums alongside a 5,000 sq ft clubhouse, while in Phuket, the upcoming MontAzure, which is a mixed-use residential resort development located along the beaches of Kamala, offers an upscale retirement community (Kamala Senior Living) as well.
Sharing his thoughts on what makes the Kamala Senior Living initiative so unique, Jonathan Umali, director of project and asset management at Hong Kong's ARCH Capital Management, a lead investor in MontAzure says, "There are activities organised for residents, so that they have something to do every day. It's like being in a cruise ship."
Why invest in Thailand's luxury retirement housing?
Lower cost of living
Another reason why Thailand is continually luring foreign retirees to its shores is no doubt the lower cost of living as compared to other countries in the region, including Singapore. 
According to International Living Southeast Asia correspondent Kirsten Raccuia, a single expat can live in Hua Hin on a monthly budget of $610, which "includes a weekly massage for $8, health insurance, and a round of golf" as well as "eating out at least twice a day".  
Better quality of life
One of the main reasons why Thailand is attracting many retirees from China is the better quality of life.
According to Sue Jong, chief of operations at Juwai.com – one of the largest Chinese international property portals, interest in Thailand properties has surged. "Retirement buyers love the high quality of life and low cost of living," she says. 
Indeed, China's bad pollution is an often-cited reason for emigration as it not only makes life dreary, but it can cause serious health issues. And in this aspect, Thailand is pristine compared to China. 
Centrally located on the global map
Thanks to its strategic location at the centre of peninsular Southeast Asia, and bordered by Myanmar and the Andaman Sea to the west, Laos to northeast, Cambodia to the southeast, and Malaysia to the south, Thailand is a travel hub to the rest of Southeast Asia. The country's international airports offer direct flights to almost all of Asia, allowing residents to fly out to neighbouring countries easily, and at very reasonable prices. 
Excellent, affordable healthcare
Home to over 50 Joint Commission International (JCI) accredited hospitals, which is widely considered the international benchmark for the quality of a hospital, Thailand offers excellent medical services at an affordable price. The JCI accreditation is only conferred to hospitals if they offer the latest advances in surgery and treatment – for example, BNH hospital in Bangkok provides a 4D mammography, which can detect cancerous tissue far earlier than ever before, and a Cath lab for physically examining patients with heart symptoms.
Friendly retirement visa system  
In order to attract more retiree-expatriates, the Thai government began issuing 10-year visas to prospective retirees from 14 countries, namely Australia, Canada, Denmark, Germany, Finland, France, Italy, Japan, Netherlands, Norway, Sweden, Switzerland, the UK and the US. This visa only costs 10,000 baht (S$410), and some of the requirements include: applicants need to be at least 50 years of age; applicants must have a minimum balance of three million baht or have a provable overseas income of at least 100,000 baht (S$4,100) per month; applicants must have health insurance cover which pays out at least US$10,000 (S$13,611); and applicants must not have any pending criminal convictions or charges. 
What to look out for
"Foreign investors should always do their research and be sure that the advice they receive is accurate and reliable. Keen investors should familiarise themselves with the ins-and-outs of the Condominium Act's provision for foreign ownership before making any purchase," shares Henri Young, marketing director, MontAzure. 
FAST FACTS
Population: Approx. 69 million
Total area: 513,000 sq km  
Currency: Thai baht
GDP per capita: US$5,908 (S$8,033) 
GDP growth: 3.2 percent 
Future transport: Bangkok to Chiang Mai high-speed railway
Distance from Singapore: Approx. 1,430 km
---
INTERNATIONAL HIGHLIGHTS
For those considering investing in luxury retirement housing in Thailand, here are our top picks.
NEW PROJECTS 
MontAzure
Kamala, Phuket
 Built on a site spanning over 180 acres, MontAzure is a luxurious resort development located along the beaches of Kamala in Phuket. Interested buyers can choose from one- and two-bedroom units, with prices starting from US$230,000 (S$312,171).
The Twinpalms Residences MontAzure is a 75-unit luxury freehold beachfront development operated and managed by the award-winning Twinpalms Hotel Management.
Those seeking something even more exclusive and luxurious can consider one of the hillside villas called The Estates, which are priced from US$7 million (S$9.5 million) each. There are only 13 villas available.
MontAzure is a short drive from the island's best shopping, dining and entertainment precincts, as well as Phuket International Airport. 
Type: Mixed-use resort development    
Developers: ARCH Capital, Narai Group and Philean Capital 
Facilities: Residents lobby, beach café and bar, gym/yoga studio, spa pavilions
Nearby Key Amenities: Beaches, shops, restaurants
Nearest Transport: Phuket International Airport
Starting Price: US$230,000 (S$312,171)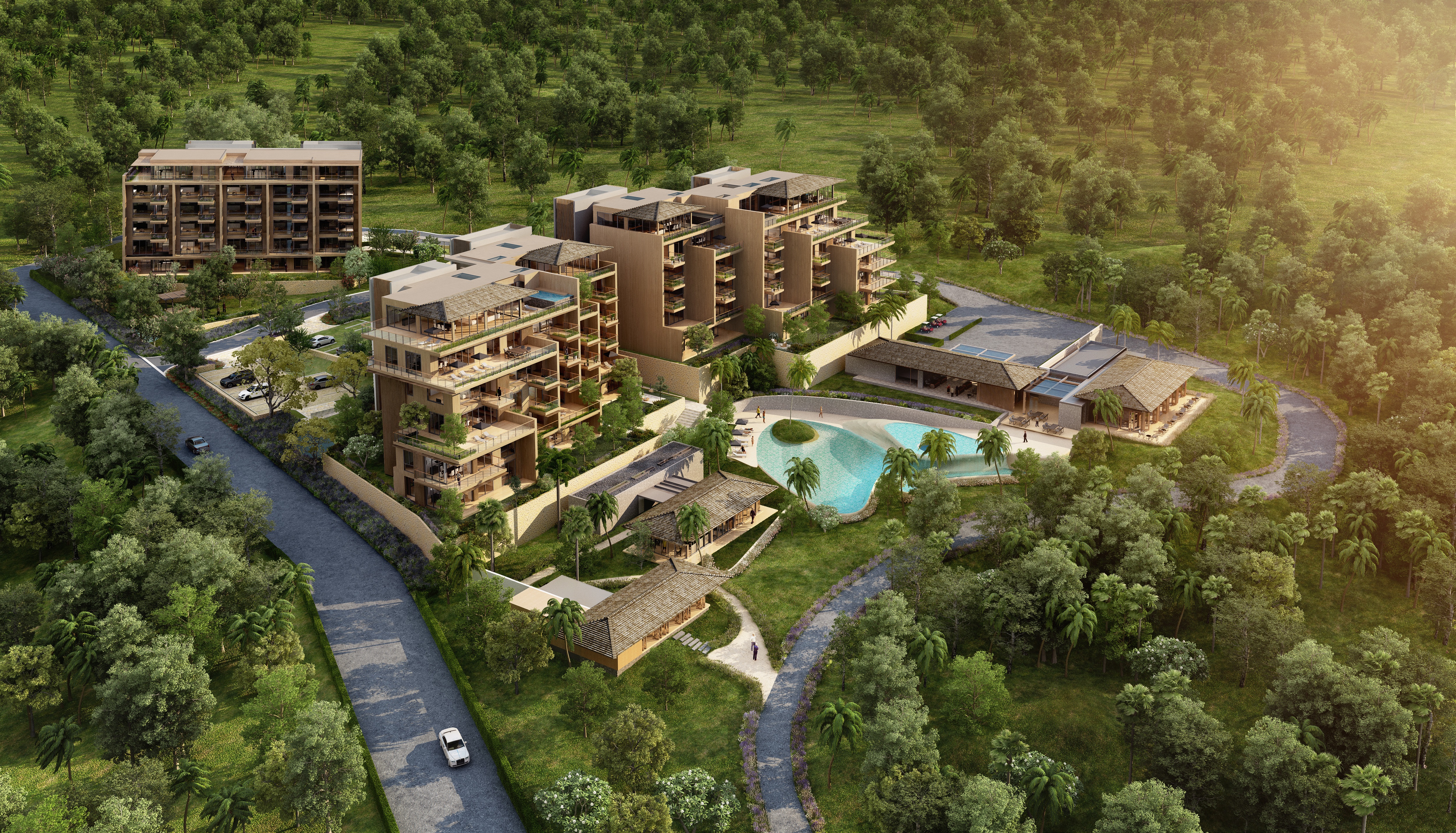 Sunplay Bangsaray
Bang Saray, Pattaya
Set on a quaint site, Sunplay Bangsaray comprises The Heights – a collection of 70 one- to three-bedroom apartments and a 5,000 sq m clubhouse. The residences are surrounded by lush tropical gardens that offer comfort and privacy.
There is also an exclusive collection of 50 pool villas of varying designs, with a choice of two- to four-bedrooms. Each villa comes with sun decks and gardens, plus 12-metre private pools and planted rooftops.
Thanks to its strategic location, residents can get to the U-Tapao Rayong-Pattaya International airport within 30 minutes by car. A high-speed rail link between Pattaya and Bangkok is also in the pipeline.
Type: Condominiums and villas               
Developer: Sunplay Asia Limited
Facilities: Jogging and biking trails, tennis courts, lagoon-style pool, gym, snooker room
Nearby Key Amenities: Beaches, floating market, shops, restaurants
Nearest Transport: U-Tapao International Airport, future high-speed rail
Starting Price: US$268,665 (S$364,793)