Tucked away at the southwest fringe of Singapore lies one of Singapore's oldest towns. Venture there, and you may find that the neighbourhood still holds an air of rich history, be it through the architecture, or the elderly citizens whiling away their afternoons under the void decks.
Named after a queen: Queenstown's past
Older folks may recall the days of Singapore's beginnings, and how we were under British colonial rule. During this era, Queenstown was home to people who lived in
atap
huts, cultivating fruits, vegetables, and livestock for a livelihood.
Its closest neighbours include Bukit Timah to the north, Bukit Merah to the east and southeast, and Clementi to the west and northwest.
Where Queenstown-ers go
Even though Queenstown is one of the older towns, there are still plenty of things to do in the area. Apart from the numerous coffee shops and grocery stores in the area, there are also a couple of gems worth mentioning.
IKEA Alexandra
The first IKEA to have appeared in Singapore is housed in Queenstown. Here, you will be able to find all sorts of furniture, from light bulbs to office desks. It is one of the most well-known things about Queenstown, and together with its other outlet in Tampines,
saw visits of over 7 million people as of 2017.
There is also a restaurant in IKEA, where you can take a break before you start shopping. Apart from the affordable furniture, IKEA is also famous for its delicious meatballs and affordable chicken wings.
IKEA Alexandra is about a ten minute walk away from Queenstown MRT, and lies along the same road as several other automobile offices.
Queensway Shopping Centre
Home to cheap sports equipment and authentic, olden-style local food, Queensway Shopping Centre was first opened in 1976, making it one of the oldest malls in Singapore. Although it was built to house 200 stores, only around 150 of them are currently occupied.
While you still can, make sure to visit some of the popular food stores in the area. One residential favourite is Janggut Laksa.
Its founder was actually the one who created the original Katong Laksa, which dates back all the way to the '60s. According to those who have tried it, its taste remains loyal to the laksa sold during his early days.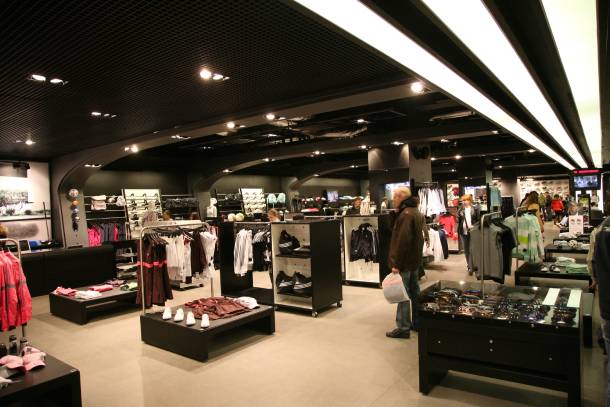 Another attraction in Queensway Shopping Centre would be the cheap sportswear. It's fondly known by locals as the go-to place for cheap sports shoes, gym clothes, and various other items such as badminton rackets and table tennis paddles. Things there are almost always on sale, so if you need to buy something soon, this is the best time to go.
Anchorpoint Shopping Centre
Anchorpoint Shopping Centre is another residential favourite for those who want to buy affordable brand-name items. That's because many factory outlets can be found here, many of which are constantly on sale. Off-season and discontinued products can sell for massive discounts of 30% to 70% here.
Included amongst the factory outlet stores are Charles & Keith, Pedro, G2000, Giordano, Cotton On, Billabong, FOX, Capitol Optical, and TYPO.
Want to live in Queenstown?
If you're already thinking of moving to Queenstown, be sure to check out some of the condominium developments in the area.
Queen's Peak condominium sits right opposite Queenstown MRT station, and is a five-minute walk away. Its central location means that residents can easily get to every part of the neighbourhood via bus, as well as quick access to the East-West line via Queenstown MRT. In fact, Central Business District (CBD) areas such as Raffles Place and City Hall are only a few stations away via MRT.
Arta is a five-minute walk away from Redhill MRT station. This grants residents easy access to the East-West line, as well as many areas of Queenstown and Tiong Bahru via bus. Its centralized location means that residents living there can easily get to the CBD.
Margaret Ville lies between Queenstown MRT and Commonwealth MRT. It is a short bus ride away from either MRT station, and is located right beside Queensway Secondary School. For parents who want to send their children to a nearby school, Margaret Ville may be an ideal location to stay. The condominium's proximity to the CBD area also makes it suitable for office workers.
If you're already thinking of moving to Queenstown, be sure to check out some of the condominium developments in the area.
What are the property prices like in Queenstown?
Looking to get a HDB flat instead in Queenstown? Queenstown actually
ranks among the top 5 most expensive HDB estates to buy a 3-room, 4-room, or 5-room flat
.
Here are the average prices for these flats in Queenstown:
3-room flat: $342,850

4-room flat: $718,875

5-room flat: $843,500
Notably, Queenstown comes out top as the most expensive place to get a 5-room flat, with estates like Toa Payoh, Bukit Merah, and Bishan trailing behind.
What are URA's latest plans for Queenstown?
For example, there are plans to progressively build new housing, community amenities, as well as institutional and work spaces in Queenstown.
Other neighbouring estates of the Rail Corridor such as Buona Vista and Sungei Kadut are also planned to be rejuvenated.