In a country where living in one's childhood home well into adulthood is not uncommon, moving out is seen as one of the hallmarks of reaching adulthood and taking another step toward living independently in Singapore.
For many Singaporeans, their first taste of living alone comes when they get married and buy their own homes. However, there are others who rent, leaving their parents' homes 'prematurely'. The COVID-19 pandemic certainly
created an opportunity for many youngsters
to rent, as enduring work-from-home and home-based learning arrangements highlighted the need for space and independence.
Some parents will beg to differ, of course. Empty nest syndrome aside, the more prudent generation may think, Aiyah, waste money, especially when a roof over one's head is already available.
Perhaps there is some wisdom to that. If the question was about long-term housing, how would renting over a long period be compared with buying a property? When would it make more financial sense to buy an HDB flat instead? Let's find out.
Why Rent in Singapore at All?
While there are instances when buying a flat will seem like a financially savvier decision than renting, there are also a few occasions where shorter-term rentals are preferred over long-term flat purchases and financing.
1. Renting a Unit in Singapore Offers Conveniences and the Option of Short-term Leases
For those who are deployed overseas for the long-term, or couples who frequently travel between Singapore and other countries, the flexibility of a home rental means tenants can terminate their lease on short notice. Without the long-term commitment of paying off a home loan, these individuals can also more easily choose to move overseas.
Other conveniences a rental home offers are living near to your workplace and having a home with excellent connectivity to public transport and amenities.
This is likely due to the growing need for personal space amidst long-term work from home arrangements, BTO construction delays, and young couples renting a unit ahead of moving in together as they wait for their homes to be completed.
For couples unwilling to wait out long BTO completion times, the only other options are applying for the
Sale of Balance Flats (SBF)
or buying a resale flat.
2. Renting in Singapore Can Mean Less Immediate Strain on Finances
Not being ready or having enough funds for the heavy financial commitment could steer some towards renting a home, especially since property purchase involves large sums of money, both upfront and in the long run.
A flat's downpayment is paid either using funds in your CPF Ordinary Account (OA), cash, or a combination of both. Assuming you take an HDB-granted loan, the initial downpayment would amount to at least 15% of the valuation, or $57,000. With a bank loan, the downpayment would amount to $95,000 and you must pay at least $19,000 in cash (5% of the purchase price). That's no small amount to sneeze at!
Depending on how long you plan to rent, paying
$2,000 in rent
on a monthly basis for a similar 3-room Tampines unit will seem an easier commitment to make, especially in the short term.
Plus, if you're renting with a partner, the financial burden is equally split. Renting gives these couples the option to have their own space and save up while waiting out the high HDB resale flat prices before purchasing a place.
If you're renting with a group of friends, your rent is potentially lower as you split the rental costs between more people!
3. Not Ready for Long-term Home Loan Commitments
There's a reason why Singapore couples post selfies with captions, "Can't wait to be in debt with you for the next 25 years" when getting a BTO flat.
Financing a home usually requires a loan. Depending on your property type, you'll be getting gone from either HDB or a bank. You then have to pay monthly instalments, over a loan tenure that typically spans a decade or more.
If your current life motto is, "Here for a good time, not a long time" or "YOLO", then maybe, buying a home right now might not be the best idea.
Committing at least 10 years of your life to pay off a home loan may require prudent lifestyle changes, especially if cash flow is tight.
Concurrent financial commitments such as student loans, personal loans and bills can exacerbate the financial strain, especially when monthly income is not stable, or if a loss of job occurs. Even in the case of dual-income spouses or co-owners, co-financing a property together is a long-term commitment not to be taken lightly.
Buy HDB Flat: When Does Buying One Make More Sense?
So, at what point does going all in and buying a flat make more sense than renting one?
Let's consider a scenario in which a married couple is eager to move in together. They've decided to forgo applying for a BTO flat and are considering either buying a resale unit or renting a 3-room HDB flat in Tampines.
Buy HDB Flat: Buying a Home Typically Costs Less Than Renting in the Long Run
Regardless of whether they take an HDB loan or a bank loan, buying the 3-room resale flat in Tampines is more affordable than renting one. We did the math:
*We've assumed that the rent for a 3-room HDB flat in Tampines will not change over the years. For HDB loans, we've assumed an interest rate of 2.6% p.a., at 80% LTV. For bank loans, we've assumed an interest rate of 1.6% p.a., at 75% LTV.
From the infographic, you can see buying a home is definitely cheaper!
Additionally, the total cost will change depending on the nature of the loan as you may refinance your mortgage or interest rates fluctuate over the years. Refinancing your loan for a lower interest rate potentially widens the gap between the total cost of home ownership and long-term rental even further.
Buy HDB Flat: Buying a Home Means Lower Monthly Repayment Fees
Despite incurring interest on a home loan, the mortgage repayments are still overall lower than the monthly rental payments.
Assuming that the couple earns about $7,000 in gross monthly income, the mortgage repayments are also well within the
Mortgage Servicing Ratio (MSR)
limit of 30%, ensuring that 70% of their income remains untouched by mortgage commitments.
That means your cashflow can be better managed while still shouldering other commitments, such as renovations, car loans, or even saving for a rainy day.
To Buy HDB Flat or To Rent in Singapore?
While it seems that buying a flat makes more financial sense in the long term, purchasing a home still comes with a hefty downpayment and heavy price tag. Other costs such as legal and conveyancing fees, the option fee, and renovation costs have also not been accounted for in this article.
However, this does not mean that renting is the more favourable long-term housing solution. When renting, you're subject to changing rental prices.
It's a no-brainer that rental fees vary depending on location, size of the unit or number of rooms rented. But rental prices in recent years have been on the rise, and
continued to do so in 2022
– an important factor that cannot be quickly discounted if one has plans to rent in the long term.
Q3 2022 was reportedly another red-hot quarter for the rental market as more expatriates return to the city and BTO construction delays endure.
To Buy HDB Flat Is Paying for a Long-term Investment
Ultimately, unlike buying property, rents are sunk costs that cannot be recovered once incurred.
Despite being high-budget investments, homeowners still stand to profit from the sale of the flat under good market conditions, and CPF monies used in the original purchase are also returned with accrued interest into the CPF OA.
In fact, downgrading to a smaller unit also presents a good opportunity not only to increase sales proceeds but also to bolster CPF funds for eventual retirement.
To Buy HDB Flat or to Rent Ultimately Comes Down to Paying Within One's Means
Another key difference between paying monthly mortgage repayments and rent, no matter how similar the fees are, is also in the way these payments are managed. With a mortgage, the MSR or
Total Debt Servicing Ratio (TDSR)
helps ensure that homeowners are not paying more debt than they can afford by capping the monthly serviceable debt against gross income.
Rent, on the other hand, is not governed by these measures; it is a fee that needs to be paid, for better or for worse. Missing a month's rent could become the difference between having a roof over one's head one moment and getting evicted the next.
Ultimately, choosing to rent or buy a flat is a personal decision, which should be made on what makes the most sense for your financial situation and lifestyle.
For those looking to buy a home and who need help in choosing a mortgage, you can approach PropertyGuru Finance's friendly mortgage experts for personalized advice – all for free!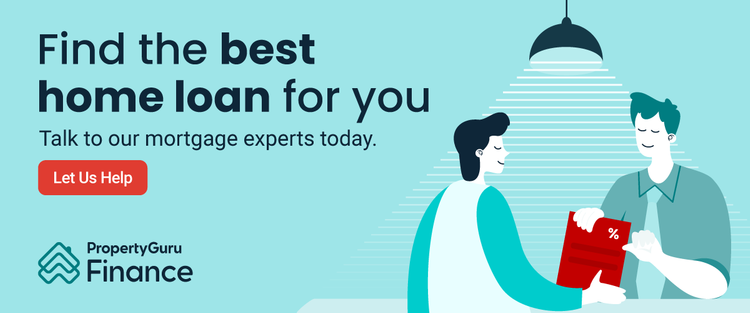 Chat with us on Whatsapp
Fill up an online form
Disclaimer: Information provided on this website is general in nature and does not constitute financial advice.
PropertyGuru will endeavour to update the website as needed. However, information can change without notice and we do not guarantee the accuracy of the information on the website, including information provided by third parties, at any particular time. Whilst every effort has been made to ensure that the information provided is accurate, individuals must not rely on this information to make a financial or investment decision. Before making any decision, we recommend you consult a financial planner or your bank to take into account your particular financial situation and individual needs. PropertyGuru does not give any warranty as to the accuracy, reliability or completeness of information which is contained on this website. Except insofar as any liability under statute cannot be excluded, PropertyGuru and its employees do not accept any liability for any error or omission on this website or for any resulting loss or damage suffered by the recipient or any other person.