Many couples try to time their marriage or wedding with their new home, so that they can move in and live in their own place right from the first day of starting their new chapter. This gives them a sense of independence and frees them from the need to move in with either the groom or bride's parents. Dr. Samuel, a researcher in the solar field, and his wife Jocelyn, a product marketing manager in a tech company, is one such couple.
"As a soon-to-be-married couple, it was important for us to start our journey in a new home together, in our own space, instead of living with our parents," says Jocelyn. Therefore, syncing the move-in date with their wedding day in July 2021 was crucial. "We started looking in January 2020 as our wedding was supposed to be in December 2020, but got postponed due to COVID measures," Jocelyn remembers.
Sam's father, a seasoned property agent, recommended they start their search on PropertyGuru, making it easier to find their ideal home. "Through the app, we were able to filter properties based on the things we looked out for, such as 'corridor end', flat size, flat type, floor level, as well as the year built. In total, we saw approximately 64 flats," remarks Samuel.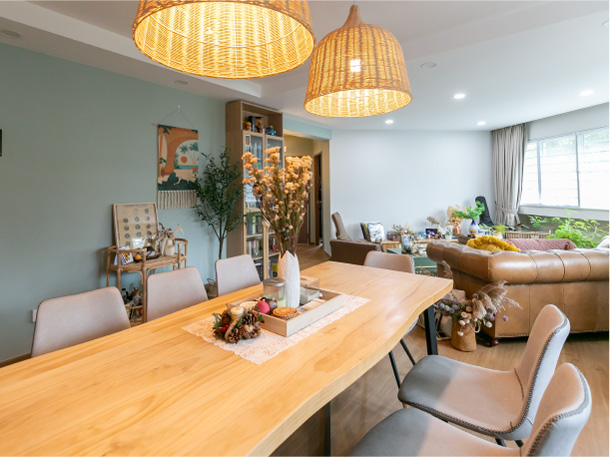 Finding A Home Amid the Competitive HDB Resale Market
They knew for sure that they wanted to find a place in Tampines or Pasir Ris. "We wanted to be close to our parents and get the proximity grant," says Jocelyn and Samuel.
The PropertyGuru app also enabled them to set up email notifications for new listings in Pasir Ris and Tampines, promptly giving them the latest updates. "The notification allows us to see new listings or changes in prices for houses that we favourited using the 'shortlist' function ," explains Jocelyn.
Although PropertyGuru was a tremendous help, they admit that their house hunting journey was quite stressful, with many ups and downs along the way, as it was during various COVID tightening measures by the Government. "Thankfully, there were several agents who offered virtual tours," Jocelyn reminisces.
Moreover, due to the large backlog of delayed BTO projects, buyers were forced to look to the resale market for a home, driving up prices of resale flats. "Our competition in the market was greater than it was pre-COVID, and we found most good houses snatched up quickly by others," opines Samuel.
Their journey to the place they now call home, a 5-room, 1,453 sq ft HDB flat, was indeed not an easy one. For many other properties, they were either outbid by other buyers or the owners changed their minds about selling the place. "It was truly frustrating," Jocelyn remembers. With 64 resale units seen, there were a few memorable incidents.
"In one case, the children of the deceased owner were selling a five-room flat we liked. But as the children were fighting for the inheritance, there wasn't a good landing price, and decision-making was delayed. Another encounter was when a property agent brought us to the wrong flat to view, knocking on the wrong house door, which was one level above the actual house," the couple laughs.
Happily Ever After in Pasir Ris
But with time, they eventually found the perfect place to call home. "As nature lovers, we gravitate towards houses with greenery around. When we saw how bright the house looked – as it was surrounded 360 degrees by windows and with trees all around the flat – we were immediately sold. It gives us a sense of privacy," they said in agreement. Their privacy is also ensured because their place is a corner unit.
The place has enormous potential for growth since it's near what would be a new Cross Island Line station. Another plus point is that it's just a three to four-minute walk to Sheng Siong, Giant, and other amenities. "It helps me to do my shopping with ease as it's accessible to go nearby," explains Jocelyn.
As of now, they're satisfied with their living space. "We don't plan to do anything major with the place, just a few pieces of furniture here and there to make the place more 'homey' as they say," says Samuel. They agreed that they wouldn't move till the new MRT station is built. "Once the station is done and the place appreciates, we'll move if the price is right," Jocelyn grins.
All images featured in this article are owned by PropertyGuru and should not be used without permission.