Getting a new home can be an exciting experience, but it isn't always easy. F
or 44-year-old Salmy Malik, the wait for a dream home took nearly a decade. Here is the heartwarming story of how Salmy and her family finally ended up in the Bangkit Road HDB flat that they now call home.
No Luck with BTO Flats Despite Trying over 10 Times
After a divorce in 2003, Salmy and her two daughters − now aged 19 and 21 − moved in with her parents. However, a
s her girls grew up, it became clear that the three of them needed a place of their own.
Unfortunately, their house-hunting journey was marred with disappointment, as they failed over 10 times to secure a BTO flat.
"We were so hopeful every time we got a queue number," recalls Salmy, a preschool teacher at a mosque. "But along the way, HDB would inform us that all the slots were taken up, leaving us disappointed yet again."
Then, Salmy Started Exploring Other Housing Options
Salmy refused to give up, and fortunately, saw her luck turn around when she began searching for a resale flat in 2018.
She tapped on PropertyGuru's desktop app to narrow down her options. "Using PropertyGuru was an easy process. I simply indicated my preferences and the site filtered them down to a few listings in the area," says Salmy.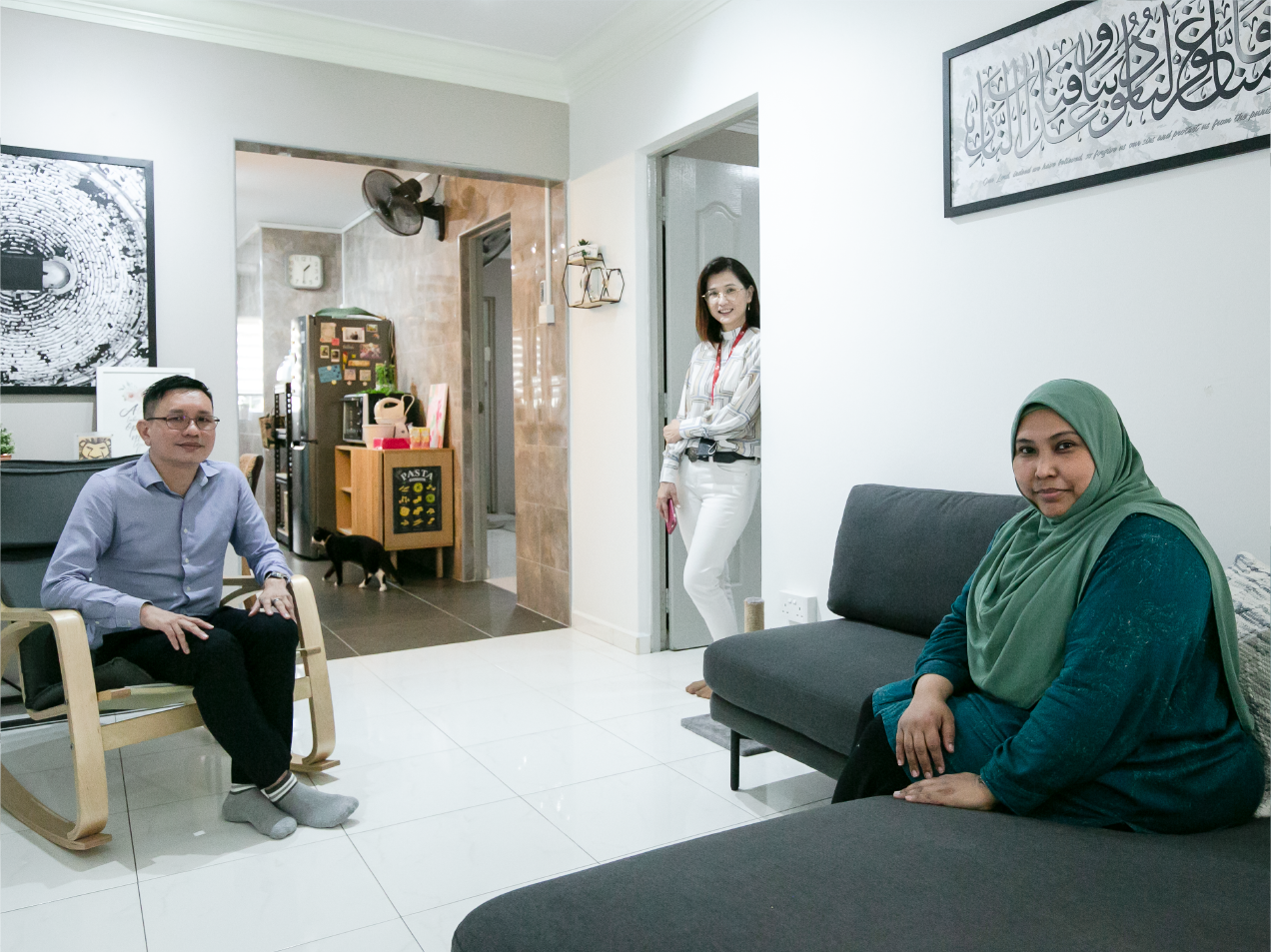 Salmy also credits PropertyGuru for connecting her with housing agents Joanne Tay and Jack Toi. The duo appeared on the site as featured agents for the Bukit Panjang district, and played an instrumental role in helping her nab her dream abode.
Eventually, She Decided on a Spacious Unit at Bangkit Road
Whilst Salmy initially considered a two-room flat at Segar Road, Joanne recommended a three-room resale at Bangkit Road instead.
"With two growing girls, I figured that she needed the extra space," says Joanne.
Although the Bangkit Road flat was 25 years older than her first option, it was well-maintained and much roomier for her family of three.
Joanne and Jack also went the extra mile by offering Salmy financial advice. They recommend that she apply for the Proximity Housing Grant as a family nucleus, listing her daughter as a co-occupier of the home. This way, Salmy was successful in securing a $20,000 grant, double the amount than if she had applied as a single.
"The New Home Is a Dream Come True"
Looking back, Salmy is thankful for having gone with Joanne's recommendation.
She loves that her current flat is more spacious than the BTOs she unsuccessfully applied for. All her failed attempts proved to be a blessing in disguise!
"The new home is a dream come true after so long! And my girls have been so supportive and are elated that we finally have a place to settle down," Salmy enthuses.
A fan of minimalist decor, she chose simple renovations. Most were conducted around the kitchen area, which was expanded by knocking down the storeroom. The kitchen was upgraded with brand new equipment as well, providing her with the perfect space to cook yummy meals for her daughters.
As avid art enthusiasts, she and her daughters also do their own paintings. Their beautiful work can be seen hung up around the home, and Salmy even teaches painting workshops over the weekend.
After living here for a year and a half
,
she's happy to report that they have adjusted perfectly to their new home.
"Ever since I shifted here, I will zoom back home once I finish work at five," says Salmy. "In the past, I used to stay back late doing paperwork. But now I look forward to coming home and preparing dinner for my girls!"
During the COVID-19 circuit breaker, the advantages of a spacious home became evident to Salmy and her family. It's easier to go into lockdown when you love your house and neighbourhood.
"I was glad that I could spend time at home with my cat Sushi and the rest of the family during the circuit breaker. I must say I'm the happiest mum," she shares.
A Warm and Vibrant Community
Salmy is completely in love with her home's location in Bukit Panjang too. Not only it is close to her parents' Jelapang residence, it's a mere 5 to 10-minute walk from her workplace.
There's plenty of delicious food to be had around the neighbourhood as well. Her favourites include roti prata, nasi ayam and chicken rice from Bukit Panjang Hawker Centre.
"There's also a 'mini Chinatown' – Bangkit Art Street – nearby where you can find practically anything," says Salmy. "Whether it's party supplies, household items or fresh fruit and vegetables − you name it and they've got it!"
Conveniences aside, what she appreciates most about her estate is the friendly and personable neighbours.
She's particularly close to both a Chinese and Malay family who live on the same floor. Her Malay neighbour has a big family with young kids, meaning Salmy finds connecting with them a breeze. Both families even cook for each other and exchange food during Ramadan.
"It really feels like being back at home with my parents, where we also had this kampung-style practice of exchanging food!" she laughs.
All images featured in this article are owned by PropertyGuru and should not be used without permission.