Not to be confused with the Australian capital city, Canberra is a new estate that is set to see a lot of development in the coming years. With an MRT station, a shopping mall and a sports hub in store, it's exciting to see what possibilities await this small neighbourhood.
Where is Canberra?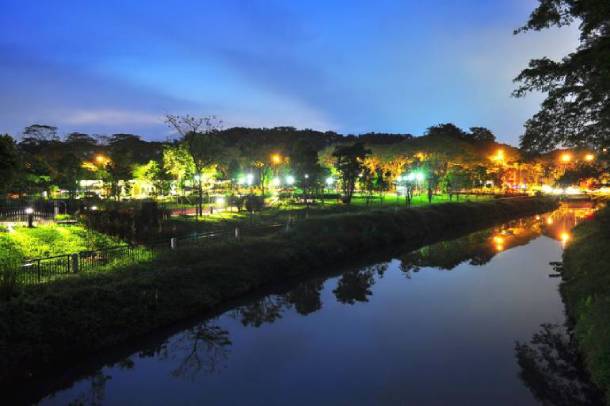 Canberra is located just off Sembawang Road
As some of you may have noticed, our MRT system maps seem to be missing station numbers. For instance, Sembawang's MRT number is NS11, while Yishun is NS13. The missing NS12 happens to be a neighbourhood known as Canberra.
Sandwiched between Sembawang and Yishun, the development of Canberra MRT has been in the works for quite some time. Canberra MRT is set to open in 2019, and will grant its residents seamless connectivity to the rest of Singapore.
Where and when will Canberra MRT be built?
The estimated date of Canberra MRT's completion is projected to be sometime in December 2019. Located right opposite Canberra Plaza, Canberra MRT will sit a short distance away from the residential blocks. Its close proximity to the rest of the neighbourhood is a huge advantage to those living in Canberra, as it reduces the need to take other forms of transportation. Everything is within walking distance, and you can even walk over to Yishun if you have ten minutes to spare.
What's there to do in Canberra?
There are plans to develop a sprawling, $1.5 billion sports and community hub named
Bukit Canberra
in the area. It will combine sports facilities with nature. Set to be completed in 2020, Bukit Canberra will cover over 12 hectares of land, or 20 football fields.
Of course, that space has to be filled up with amenities, and there is much planned for the space. Here is a list of things that you can expect to find in Bukit Canberra:
An 1,500 square metres

ActiveSG gym

Indoor/outdoor pools

An indoor sports hall that can seat 500 people

3km of outdoor running trails

An orchard which will feature a variety of locally grown fruit

A "food forest", which will feature different types of crops

A community garden

A hawker centre

A polyclinic

A senior care centre
The public will be able to grow their own plants in the community gardens.
Outside of Bukit Canberra, another thing to look out for is
Sembawang Hot Springs Park
. It is located off the southwest corner of Canberra, along Gambas Avenue. At the moment, the spot is usually patronized by the more senior members of society, but it's about to go through a major renovation. This renovation is expected to be completed in the third quarter of 2019, and visitors can expect new additions and features. Some of these additions include a cascading pool, a foot bath, a cafe, and a floral walk.
What's there to do in Canberra?
It seems like there is a lot in store for Canberra in 2019. Alongside Canberra MRT and Sembawang Hot Springs Park, a shopping mall is also set to open in 2019.
Canberra Plaza
, a three storey mall, will have plenty of communal facilities. For instance, they will feature a water playground for children, a nautical-themed event plaza, supermarkets, and various enrichment centres.
Because Canberra is a relatively small estate, there's a limit to the facilities it can have for the time being. However, it's so close to Yishun that it doesn't matter too much. If you need more when it comes to amenities, there's always Northpoint City and
Yishun SAFRA
. There's also GV Yishun Cinema, Chong Pang Market and Food Centre, and Khoo Teck Puat Hospital.
Properties in Yishun are also a hot commodity, such as
Nine Residences
, due to its close proximity to Northpoint City, and
Signature@Yishun
, which is right beside Orchid Country Club.
Connectivity to the rest of Singapore
With Canberra MRT, commuters are no further than 30 minutes away from the city. Its proximity to the rest of the neighbourhood also reduces the need for other forms of public transport. Motorists, on the other hand, might find it a bit hard to get to and from Canberra. The main highway leading into the city is the CTE, and with the rising rate of development in the North, the CTE is becoming increasingly congested.
Fortunately, residents in Canberra will see another expressway opening up in 2026. The 21.5km long North-South Corridor features dedicated bus lanes, and will run both above ground and underground. Woodlands, Sembawang, Canberra, Yishun, and Ang Mo Kio will thus be linked closer to the city.
What does this mean for residents in Canberra?
Although Canberra may seem like a "ghost town", that means it's also quiet and peaceful. For one, a lack of activities means a lack of noise pollution in the area. Canberra MRT will probably be the loudest thing in the vicinity, but the installation of noise barriers around the stations will help to bring the volume back under control.
Since Canberra is a pretty young estate, apartments there are relatively affordable. Properties in the area cost about as much as those in Yishun – they range from around $277,000 for a 4-room flat to $359,000 for a 5-room flat. In comparison, flats in Tampines are usually around $389,000 for 4-room flats, and $511,000 for 5-room flats.
With all the exciting new facilities about to reach completion, perhaps investors will be keeping a closer eye on Canberra in the years to come.