Why use multiple platforms for data, when you can get it all within just one.
Data is becoming an increasingly important asset and your success depends on how you're able to harness data and use it to convince your clients! Wondering how data insight can help you with your business? Watch this video by Joe Thor, Managing Director of MyProperty Data at PropertyGuru Group for some tips and strategies on how data tools can help you.
True to our Partner360 promise, we're always looking for more ways to become a better partner for you – so you can be the best real estate professional you can be.
Presenting to you 3 new additions on 'Insights' under AgentNet:
These 3 new tools that have been designed to:
Help you tell your sales story
Find promising prospects and identify market opportunities
Maximise your marketing spend
Give you relevant and accurate property information
…and so much more!
Available as a complimentary trial until 31 July 2021 to all Agent Partners – each of these tools bring their own winning factors. Let's check this out now!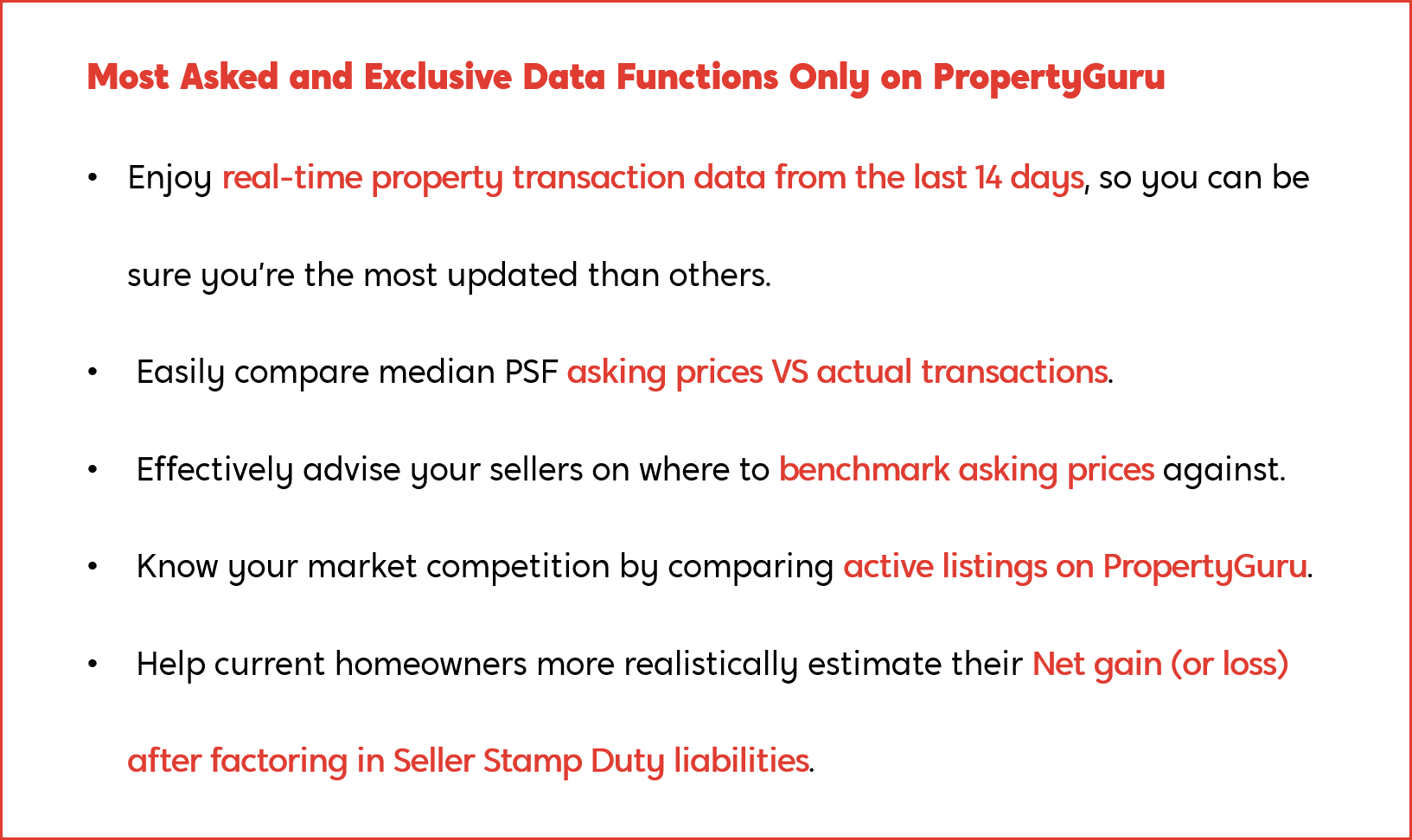 Market Insider: Market insights, from the inside
This is a powerful tool for you to achieve a macro look at how the market is doing for both condominiums and landed properties.
Here's a sneak peek:
Know what you want to zoom into? You'll also see an extensive selection of filters you can utilise to help narrow down the data and present you information like:
Median PSF value
Median PSF Comparison: Actual (Transacted) vs Asking – a PropertyGuru exclusive!
Total sales transacted value
Volume of transactions
Top 10 projects (based on number of transactions)
Latest transactions from the last 14 days
Find out How to Use Market Insider.
Project Insights: Scanning for Your Opportunities
Now here's the one that helps you with more narrowed down information and will be extremely useful in finding out exactly which unit you can focus on.
Filter your findings into what matters – like SSD (Seller Stamp Duty) status and percentage of Net Gain and so on. Particularly useful for your own mailer advertisements!
Here's a sneak peek:
Get information on things like:
Number and link to active listings found on PropertyGuru
Floor area
PSF value
Last transaction date and value
Current estimated price
SSD amount and status
Net gain or loss
Number of transactions the unit has gone through
Find out How to Use Project Insights.
Home Report: Get a Full-view of Information
This is where you get a more micro view and understanding of things. At this stage, you can expect to get unit-specific information that will empower you with a well-rounded understanding of the property.
Here's a sneak peek:
Love maps? We do too! There's a map feature that lets you immediately check out all the surrounding amenities, so you know how to craft your sales story.
Home Report also comes with its own set of useful filters, which can bring you information like:
Current estimated price
Net gain or loss (after factoring in Seller Stamp Duty liabilities)
Estimated mortgage
Mortgage calculator
Past transactions of the unit
Transactions of the same project
Transaction volume trend comparison with other projects in the same town, same district or Singapore
Median PSF trend comparison with other projects in the same town, same district or Singapore
Nearby amenities and the number of amenities for each category
Similar projects and their transaction volume, median PSF and annualised gain
Find out How to Use Home Report.
There's no time to waste! You enjoy a complimentary trial on all 3 tools till 31 July 2021, so the time to use them to the fullest is right now.
And it doesn't just stop here – this is just the start of our data offerings! We're true to our Partner360 promise, and you can definitely expect some fast follows, with progressive improvements and updates to be done in the coming weeks and months. We will be constantly collecting agent feedback in the coming weeks, and improving and upgrading the data products based off your feedback.
PropertyGuru would like to do a special shout-out to the Agent Partners who have taken the time to do user research and feedback on these tools before launching. All of us are grateful and look forward to continuously delivering more value and delight to you.
Want to co-create future products with us? We'd love to have you! Let us know by filling out your details in this form and one of our Gurus will be in touch when there's a user research suitable for you!
Need on-demand crash courses on how to use these tools? You can watch them on PropertyGuru Academy!
Being a better partner for you,
PropertyGuru Team