Some consider co-living a cheaper solution to city living, while others see it a lifestyle they aspire to. Be it a necessity or a luxury, co-living in Singapore appears to be gaining popularity as a housing option, with companies such as Hmlet, COVE living, and Lyf by Ascott emerging in the last three years. Another outfit, Stage 6, is set to join the bandwagon in 2020.
What is Co-Living?
Imagine a millennial-focused accommodation somewhere between a hostel and a serviced suite, offering Insta-worthy spaces, a line-up of stimulating events catered to its clientele and, above all, a community of creative, conscious thinkers.
This is what the typical co-living space looks like, at least in concept. Technically-speaking, it's basically a private room in a shared apartment, or a private apartment in a shared building with communal facilities, where its inhabitants are selected in some way or another, either through astute marketing that filters out those who won't fit in or a selection process that resembles enrolling into Hogwarts.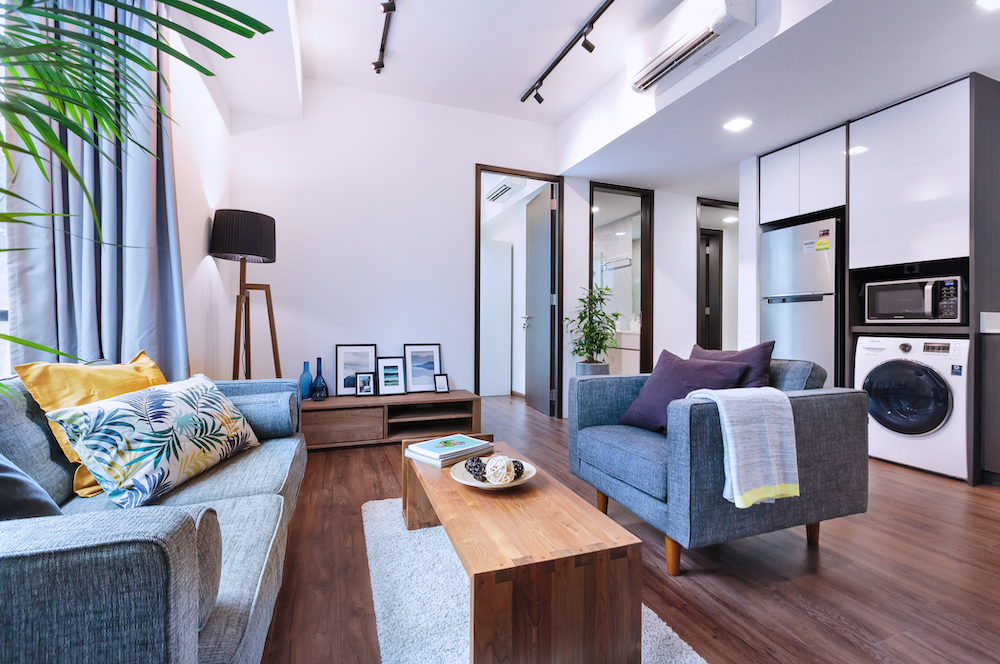 The thing is, while many people—especially folks vested in co-living—believe that the concept is will become as ubiquitous and popular as Starbucks in time to come, co-living could just be a fad, and here are six reasons why.
Co-living spaces in Singapore are overpriced
At Hmlet's centrally-located Cantonment locale, prices range from $870 to $1,920 a week, depending on the size of your private space. The smallest, most affordable room will set you back a staggering $870/week, which works out to around $3,480 a month, although Hmlet does mention that cheaper rates can be negotiated for longer stays.
Likewise, Lyf Funan's most basic, borderline suffocating, 18sqm studio bedroom costs $2,856 for the whole month of February 2020 (as of October 2019) before bargaining. A last-minute booking is likely to raise costs to more than $100 per night as well.
And although the perception is that millennials will be more than ready to splurge on co-living, or any shiny-pretty-new thing, the reality is different. According to a 2017 , Aron Levine, the head of consumer banking and investments, revealed that today's millennials are more careful with money, tending to "make sacrificial spending decisions, including saving more than half of their salaries".
The report goes on to say that "many [millennials] even consider themselves more financially conservative than their parents and grandparents." Considering our penny-pinching habits (and our constant complaints of the high cost of living on this sunny island), it's not surprising to see true blue Singapore millennials baulking at the idea of forgoing the bulk of our paycheque for a rented room, let alone a co-living space with an astronomical price tag.
Beyond that, sceptics will argue that the "co-living movement" is just a capitalist ploy to convince millennials to fork out the dough for a shared space, thus ensuring a constant stream of profits for real estate developers.
In other words, by steering young consumers away from home ownership against their best interests, these players will also be able to prolong their involvement in the more lucrative market of rental properties. Of course, anti-bourgeois millennials see through all that and are not going to be fooled into participating in the trend of co-living.
Human beings are innately possessive
About 48% of millennials surveyed by Deloitte for the
2019 Deloitte Millennial Survey
stated that they aspire to buy a house of their own, which is also among the top five ambitions of the current generation of youths.
Last year's also showed that 66% of local millennials are looking to own a home. Yes, it is in our nature to own things. Much like how animals such as cats, canines and primates instinctively use urine to mark their territory, human beings have the same innate desire to acquire and own territory.
At its core, a co-living space is nothing more than a glorified rental. Even if you're planning to stay there indefinitely, you'd still have to make those monthly bookings. It is virtually impossible to reserve a co-living room for more than a few months at a time, and even more difficult to make a year-long booking when the system itself has a cap to the furthest date you can view.
Unless you're a bona fide digital nomad, the fact that you're always in danger of losing the space you sleep in will always be at the back of your mind—and with that, the unsettling feeling of instability and uncertainly. Eventually, you'll succumb to your need for legitimate home ownership, or at least old-school rental with a one-year tenure and zero obligation to mingle.
Home ownership is important for our psychological well-being
As the old adage goes, "Home is where the heart is." There's also a psychological case against co-living, which argues that the traditional home remains the foremost foundation, upon which we build our lives and define our sense of self. The community is only secondary to the space we've carve out as our permanent residence.
Based on a
study
of homeless individuals in Ireland between 2010 and 2014, it found that those without a fixed residence are 30 times more likely to self-harm. While the scenario presented here is a lot more extreme than usual, it shows that feelings of security and stability—that can come from having a fixed home—are intrinsic to our mental health.
Furthermore, one of the things that contributes to a psychologically safe environment is privacy. Not only does it translate to security, the privacy of a home, with a private kitchen, dining and living area, provides freedom as well—the freedom to blast your favourite tunes, to strut around in the nude*, to scream out your silliest thoughts without being judged by a roommate.
With the millennial generation paying more attention to mental health and embracing therapy (according to research psychologist Peggy Drexler via
The Wall Street Journal
), they'll probably walk away from temporary living arrangements once the fad dies and pursue the tried-and-tested path that does more for their well-being.
*Make sure your neighbour can't see you, otherwise it could be illegal.
Our increasing digital fatigue necessitates the segregation of personal and social spaces
Take a look around you the next time you're on a train. Most of the commuters will be glued to their phones. We spend every waking hour looking at screens, from the time we check our phones for new messages in the morning and work on our laptops during the day, to the time we wind down in the evening watching shows on, you guessed it, a ginormous TV screen.
It's no wonder more than 4 in 10 UK consumers (especially young adults) suffer from digital fatigue, thanks to the proliferation of social media and digital devices. Wanting time away from the Internet, we find ourselves craving more me time and indulging in the fantasy of going off-the-grid and getting some solitude.
We need to switch off, but a co-living property (particularly one that is built to be within spitting distance of a co-working space) makes it near-impossible for us to do so. Because it blurs the lines between work, play and rest, living in a co-living space pushes you towards work-life integration and worsens your digital fatigue.
Fun community activities start to feel like networking events, and your shared room more like a live-in work environment. Plus, when you're sharing a space, you're obligated to socialise and interact with your roommates even on your downtime (or be judged as a loner).
So, forget digital fatigue, we might soon be hearing about co-living fatigue.
The social aspect of co-living has been overhyped
The main selling point of co-living is the promise of a vibrant community of like-minded individuals, a gathering of the coolest cats that will help you live out your Friends fantasy. Coupled with trendy interior design and snazzy concepts such as social kitchens, social pantries and social gyms, equipped with interactive photo booths and giant ball pits, co-living properties sound more like a utopian paradise. But co-living's been overhyped as part of the tech start-up narrative, which is already showing signs of unravelling.
For instance, WeWork, the co-working giant that also has a co-living building, WeLive, recently failed to obtain its IPO and is currently planning to
axe 4,000 staff members
. Its co-living arm has also been under investigation for advertising long-term residential apartments as hotel rooms in New York City. Similarly, The Collective, the UK's answer to co-living, has been
criticised
for misleading consumers and painting an inaccurate picture of what it's like to live there.
If you think about it, "social" kitchens and pantries are basically shared spaces, and dining areas like canteens. That makes every gym a "social" one too. If you've lived in a university hall, you'd know there's nothing glamorous about sharing a laundry area. Chances are, you're not going to make a new friend whilst loading your dirty underwear.
A co-living space is not going to magically solve your lack of a community
There are also many ways to find a community that resonates with you. You don't need a co-living space to create a community. The neighbours in and around your HDB flat or condominium can form a community. Our government has even painstakingly built a network of community centres islandwide, literally and specifically for heartlanders to mingle with each other.
Perhaps the reason why millennials gravitate towards the social aspect of co-living is because, on their own, they struggle to engage with a community. A
survey
by CNote and OnePoll confirms it, citing that two out of three millennials feel disconnected from their local community.
In the survey, about 51% of respondents attributed the disconnectedness to their lack of time to participate in social activities, while 22% admitted that they're not friends with their neighbours. So let's face it: If we're not in the habit of talking to our neighbours, why would we be any more sociable when tossed into a co-living facility? You'll just end up with a silent roomie who is either too busy or too shy to chat and attend community events with you. Once this "community" USP falls apart, so too will the co-living companies that marketed it.
And the verdict? Try co-living for yourself if you must, but don't count on finding nirvana while you're at it.
Marie Cheng, freelance contributor, wrote this story.
Disclaimer: The information is provided for general information only. PropertyGuru Pte Ltd makes no representations or warranties in relation to the information, including but not limited to any representation or warranty as to the fitness for any particular purpose of the information to the fullest extent permitted by law. While every effort has been made to ensure that the information provided in this article is accurate, reliable, and complete as of the time of writing, the information provided in this article should not be relied upon to make any financial, investment, real estate or legal decisions. Additionally, the information should not substitute advice from a trained professional who can take into account your personal facts and circumstances, and we accept no liability if you use the information to form decisions.