Little India is often shunned by property buyers and investors, who fail to see the potential in the area. (Photo: Yasmin Beevi)
Singaporeans are cautious and conservative with their investments, and often reject putting their money in areas with reputation for vice. However, these areas can provide lucrative returns. We give you the Guru View.
by Chang Hui Chew
Even in a country as tiny and safe as Singapore, there are still pockets where people might hesitate to purchase property, because of their reputation. Ask most Singaporeans where they might hesitate to buy property, and their near immediate responses are likely to be Geylang and Little india.
It is due to this however, that there is a huge upside potential in these two markets. Something many property buyers and investors forget, is that both these areas are located in the Rest of Central Region (RCR), with great transportation links to the city centre. Via Nicoll Highway, commuters can reach the Central Business District (CBD) under 10 minutes from Geylang, while Bugis, City Hall and Dhoby Gaut are also within a 10-minute radius of Little India.
In this edition of the Guru View, we take a closer look at these two districts for their capital appreciation over time, as well as their rental yields.
Geylang
Geylang is thought to be an unsafe area to live in because of its reputation for vice and prostitution. In fact, in certain parts of Geylang, the perceived risk of default is so high that most retail banks have a quota for the mortgages that they are willing to disburse in the area.
However, as we have covered in previous editions of the Guru View, Geylang is on the fast track to gentrification. The Urban Redevelopment Authority (URA) quietly rezoned a part of Geylang in July 2015, from residential and institutional use, to commercial and institutional. This is likely to bring in a slew of retail and office developments in the medium to long term.
To understand capital appreciation in Geylang we will look at a theoretical annualised growth rate over the past ten years. Figure 1 shows, on the left hand axis, the median per sq ft prices for non-landed private property for the year. On the right hand side, it calculates a theoretical compound annual growth rate (CAGR), if one had bought a unit in that year, and sold it at today's prevailing prices. CAGR is used because it smooths out the volatility and fluctuations period to period.
According to Figure 1, those who benefit the most from buying in Geylang are those who have either held the property for a relatively long period of time, or those who bought when prices fell due to external circumstances.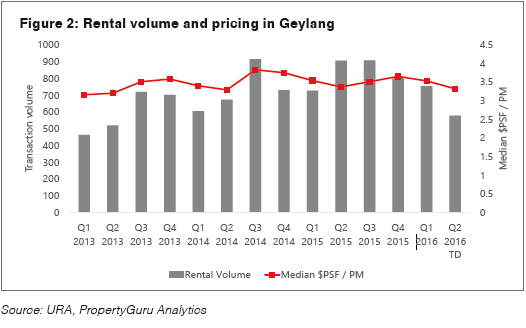 For instance, median per sq ft prices fell to $603 in 2009 due to the Global Financial Crisis (GFC) and have recovered since, even with a weaker housing market. The annualised returns, if a purchaser were to sell at today's prices, would be almost 11 percent. In absolute values, this is a whopping 128 percent increase over seven years. That's a solid return by any measure.
Likewise, we saw prices in Geylang dip in 2014, likely brought on by the implementation of cooling measures.  If one had purchased then, and were to hold on until the property cycle were to swing towards a peak again, likely towards 2020, it might be possible to realise similar appreciation.
Rental prices in Geylang, unlike sales transactions, have seen a far bumpier trajectory. The overall rental market has taken a beating on the back of both a shrinking tenant pool and wallet, and Geylang too has suffered. For Q1 2016, reported median rents were $3.53 per sq ft per month. When we place that against the median transaction prices for the quarter, gross rental yield works out to be about 3.1 percent.
In Singapore, where residential rental yields are traditionally depressed due to the high price of housing, a yield of more than three percent is considered decent. For most landlords, a yield of three percent would allow them to minimally cover their monthly instalments.
As Geylang continues to gentrify and new developments, such as the new campus for James Cook University, emerge in the area and drive demand, we are likely going to see a marked growth in prices that outpaces the rest of the island.
Little India
Even before the Little India riot of 2013, the area was often viewed as a place that is better to visit, rather than to live in. The riot did not help the area's reputation for crowds and rowdiness, even as the authorities blamed alcohol consumption, rather than taking a closer look at sub-par work conditions and the increasingly hostile treatment towards migrant labour from the Indian subcontinent.
Many Singaporeans, already possessing a less than charitable mindset to migrant labourers, tell themselves that there is even more reason to shun Little India's property sub-market. They would be making a huge mistake.
Figure 3 shows the rise in median per sq ft prices for the Little India area year-on-year (YOY) for the past decade. The annualised growth rate, if one had bought into the Little India area ten years ago, would have been about 8.2 percent per annum. While perhaps not a sharp a rise as Geylang has made over the past ten years, this is still a healthy return.
One of the reasons that Little India might not have seen as much growth compared to Geylang, is because of the higher starting prices a decade ago, a difference of almost $250 per sq ft. Little India is situated closer to the city, and gains access to District 9 and the Orchard Road area via Bukit Timah Road, and therefore offers a degree of convenience to buyers.
Buyers looking at Little India should strive to time the market accordingly. The recent CAGR peaks occurred when the market dipped, such as after the GFC in 2009, and when transactions plummeted after the implementation of certain cooling measures in 2014.
Little India is already well connected, with two MRT stations in the area – Little India and Farrer Park. The Little India MRT station saw its connectivity expand in late 2015 with the completion of the Downtown line's second phase, bringing it direct access to the Marina Bayfront area. In the coming years, as the rest of the Downtown line completes construction, commuters can reach Little India directly from Changi Airport.
Rental prices in Little India have been on a decline for the past eight quarters (refer to Figure 4). Between Q1 2014 to Q1 2016, rents saw an overall decline of 18 percent. However, signs for the second quarter are a little more positive, as median rents for the quarter to date have increased by 7.7 percent.
Gross rental yields for the Little India area remain within acceptable ranges, despite the slower market. When we examined the performance of rental properties in Little India in 2015, overall, gross rental yields stayed above 3.5 percent per quarter.
PropertyGuru also understands that on the ground, despite a weaker rental market overall, certain projects in the Little India area continue to enjoy popularity with tenants. These include Kerrisdale and City Square Residences, both of which have easy access to City Square Mall and Farrer Park MRT station.
The potential for rents, coupled with slightly more attractive quantums, helped to drive sales for the recently launched Sturdee Residences. As of May 2016, Sustained Land's reported unit sales to the URA were 158 units, approximately 52 percent of all the project's units.
Shifting perspectives
In Singapore, the reputation of vice, noise and rowdiness, often turns investors and homebuyers away from these areas. For families with young children, these areas might still not be the best places to raise their offspring, if only because there are fewer schools within walking distance.
However, families with older children with an eye towards capital appreciation, or investors, should take a hard look at these areas. Unlike other parts of Singapore, where the trajectory for growth is flatter, areas of vice often present better opportunities and upsides.
With gentrification also comes lifestyle destinations, such as hip bars, cafes and restaurants. Already, there are stretches in Geylang where older coffee shops have given way to fusion restaurants, drawing a yuppie crowd that sips on craft beers under Geylang's neon signs.
If we were to shift our perspectives, and look closer at these areas instead of rejecting them without a thought, we might be able to understand more of what these areas have to offer.