While marriage proposals these days come in all shapes, sizes, and hashtags, "Want to apply BTO?" is a uniquely Singaporean way of asking, "Will you marry me?" that never really gets old.
For Tan ShengBin, 35, and Qian Kun, 33, their rite of passage came 10 years ago when they knew they were ready to settle down. The pair, who were 25 and 23 at the time, knew they were ready to settle down together after having dated since they were teens.
Buying a home together was the natural progression of their relationship, and so, they balloted for a
flat in Bukit Panjang
.
10 Years Since Their First BTO Ballot
Today, the happily married couple live in their
5-room flat
at Fajar Hills with their young son, Eden. The tastefully decorated and spacious unit has turned out to be the near-ideal home that the couple wanted, with much of it centred around starting a family.
In the far-flung reaches of Bukit Panjang, we learn exactly how this family makes living in this quiet neighbourhood work. We caught up with a young family who shares their BTO experience and how they mapped their flat financing journey together. Here are seven lessons they learnt about buying a BTO flat.
1. Know Your Priorities When a Buying Home
A common debate that occurs during the BTO process is whether a 4-room or 5-room unit is a better value for money, especially if both options are within your budget.
With plans to have at least one child, ShengBin and Qian Kun both knew they wanted a 5-room flat. While a 4-room unit would have been affordable and spacious enough for a family of three, having a large, seamless living room space was particularly important to the pair. Among other criteria, size, location, and price were key considerations.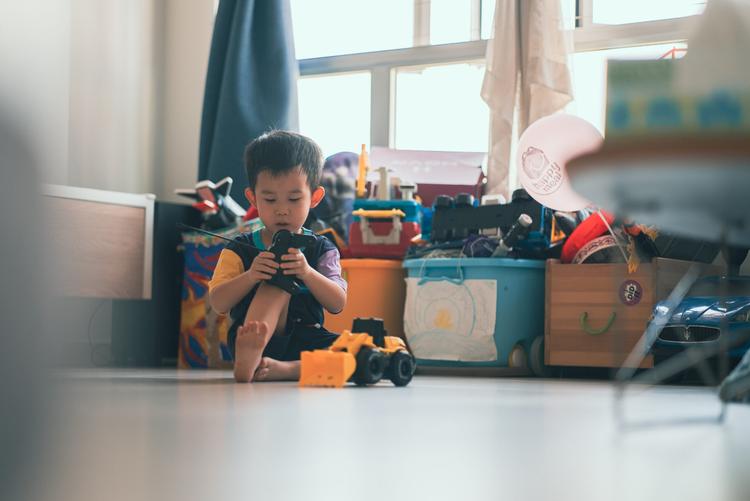 "We are used to staying in bigger houses," ShengBin who works as a digital content strategist, says, as he talks about their childhood homes. "For her, it was an older
4-room flat
, which had a pretty big living room. As for me, it was a
maisonette
and that's huge."
Having looked at different HDB show flats, they found that a 4-room flat's living room was too cramped for their wants and needs, which included having larger TV for a more cinematic viewing experience without being too close to the screen.
Eventually, the couple settled for their current 5-room flat and paid $364,200.
Lesson learnt: Be aware of what your money can get you, but don't be afraid to invest in what's important to you and your family.
2. Choose the Right Flat for Your Budget and Timeline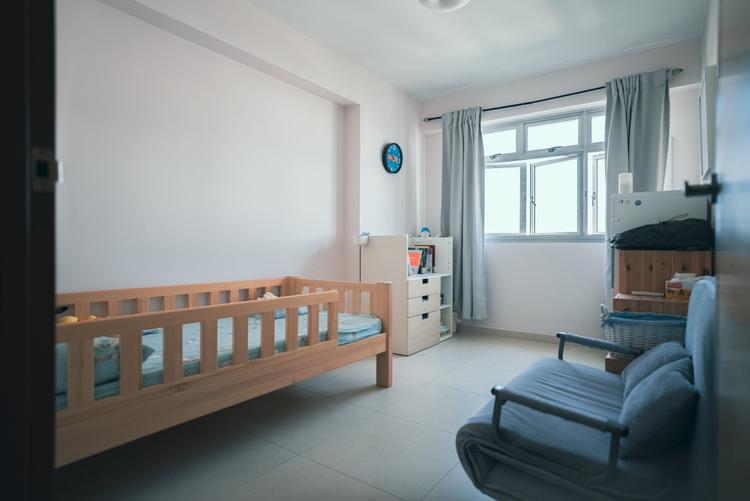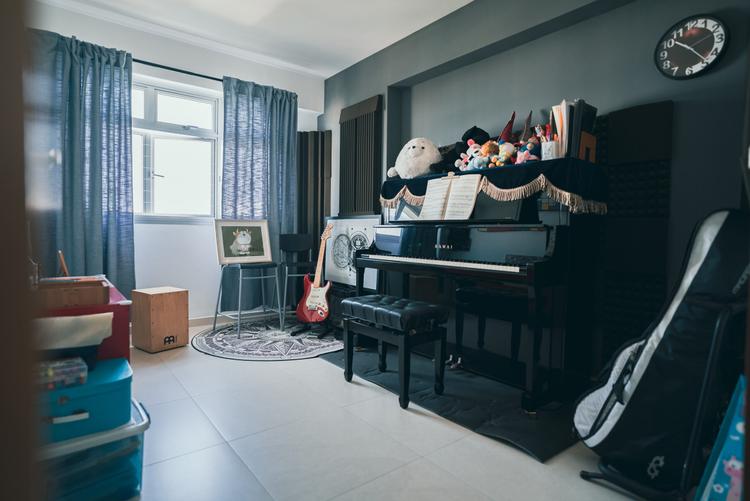 Having sufficient space in their 5-room flat also means that Eden has his own bedroom, along with a music room that Qian Kun once used to give piano lessons.
While the BTO flat that many couples receive on their first ballot might not be their ideal home, the same can't be said for ShengBin and Qian Kun, who find that their first home together "matches almost everything" they envisioned – affordable, large, and available within the next three to four years.
Qian Kun attributes getting it right the first time partly to balloting in a less 'hot' area. Among other projects launched in
March 2012
were high-demand locations like Clementi Ridges and Skyline I and II @ Bukit Batok, which also offered 4- and 5-room units.
The 4-room BTO flats at Clementi were estimated to cost $450,000, which was not only more expensive, but smaller than the Fajar Hills 5-room unit. The flats in Bukit Batok were projected to have 30 floors compared to 19 floors at Fajar Hills and required at least a five-year wait.
Conversely, the larger and more affordable Fajar Hills 5-room unit was due for completion in about four years but finished sooner in 2015.
While the other projects offered different location-based benefits, they decided that the more expensive Clementi units and the longer completion times for the Bukit Batok flats didn't fit into their budget or timeline and were able to move into their new home after just waiting three years.
Lesson learnt: Keeping to your budget and timeline is important to avoid overspending on a flat that may not meet your needs.
3. Choose a Home, not a House
On the contrary, though, they are in no hurry to do so and compared to living comfortably, are hardly concerned about the profit margins.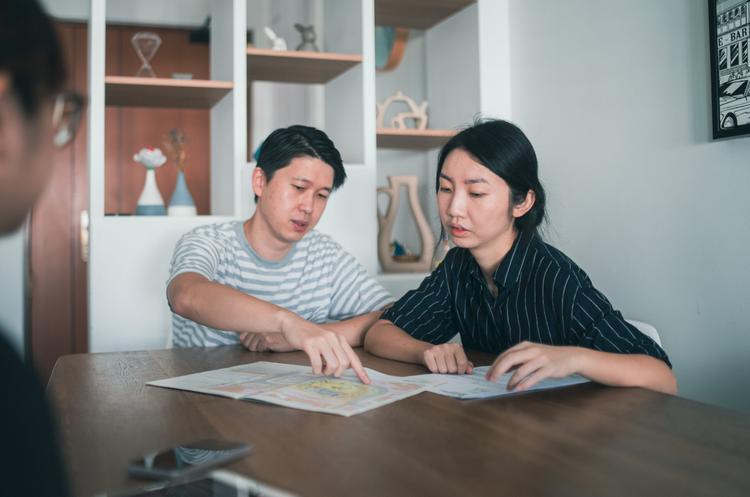 "If we were to sell this place – let's say at $600k, which is a pretty good price – and buy a resale flat, it's not going to get bigger or more comfortable than this. I still have to pay for renovations, so it's not worth it at this point," Qian Kun states.
The couple firmly believes that selling their flat should be worth their while, but as it stands, upgrading to a larger executive apartment remains out of their budget. And with their preference for open layouts and spaces, downgrading seems out of the question.
ShengBin shares that having ample space at home worked to their advantage during the COVID-19 pandemic when
work-from-home (WFH)
and home-based learning (HBL) became the norm. Qian Kun, who works as a teacher and had to conduct HBL, wholeheartedly agrees and likened carving out a workspace at home to a warzone for many of her students.
"The living space we have was really comfortable for us, and we really valued that," she says.
While some might find it a waste not to sell while market rates are favourable, for this couple, it was always more about living comfortably than making a profitable investment.
"Living first, profit later," Qian Kun quips, "We wanted to buy a house to live comfortably. Investment is part of it, but only a very minor consideration compared to how comfortable we wanted it to be in terms of living here."
Lesson learnt: Quality of life isn't only measured in dollars and cents, and it's possible to find a balance between comfort and value.
4. Choose a Location Convenient for Your Lifestyle
When it comes to Bukit Panjang and Fajar Hills, some might find it an 'ulu' place to live. For many, it's certainly not somewhere you can quickly pop over to in a jiffy. Oftentimes, housing near different amenities, transport options, and schools is preferred for their convenience, and flats with these in the immediate vicinity usually come with heftier price tags.
On the resale market at least, flats located within 500m of MRT stations can cost more than other flats, with
flats nearer the Bukit Panjang MRT
sometimes coming with a premium price tag of over 30% to 40% more. Thankfully for this couple, their BTO flat is suitably convenient for their lifestyle without costing them an arm and a leg.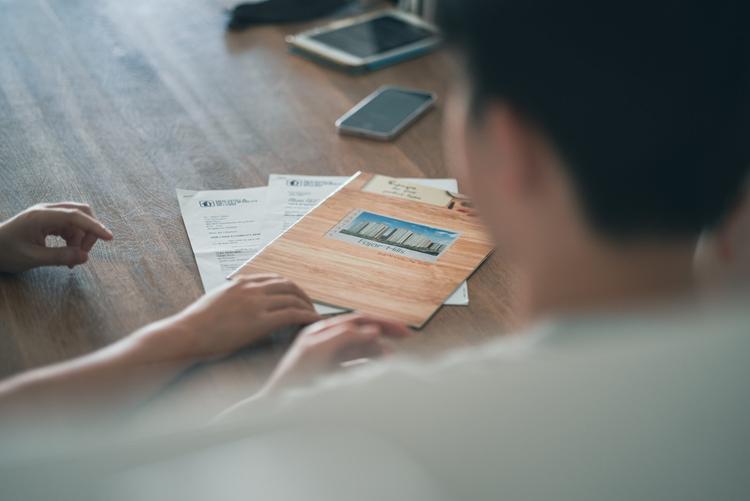 For Qian Kun, who enjoys cooking for the family, there is also no shortage of fresh ingredients thanks to the many supermarkets – two NTUC FairPrice shops, one Sheng Siong store, and one Giant outlet – and a wet market at the nearby Zhenghua estate, all of which are within a 10-minute walk.
"Usually, our neighbours complain that there aren't many good eateries around, which I guess is true," Qian Kun laughs, "but it doesn't really bother me because we cook most of the time, so it suits our lifestyle."
In fact, the location is more convenient for them than they originally thought.
While the MRT station is not as near as anticipated, the family still manages to get around easily enough thanks to a number of different bus services available at their doorstep, like service 972 which goes to Orchard in just half an hour.
Ultimately, not having to rely too much on the MRT has worked in the family's favour, and though profiting from the sale of their flat is not a key priority,
resale transactions in the last 12 months
for similar 5-room units in Fajar Hills indicate a healthy profit margin, with the highest resale price reaching $660,000, nearly $300,000 more than the original BTO price.
Nonetheless, it still can't quite compare to the resale prices of 5-room units at Jelebu Road next to Bukit Panjang MRT Station — the highest of which sold at $745,000 — that were built before the BTO scheme was introduced in 2001.
Lesson learnt: Flats situated away from the MRT station may still be convenient but will unlikely have the same resale value as those more accessibly located.
5. Ensure Cashflow by Budgeting Well
When the couple applied for a BTO flat, Qian Kun was fresh out of university, while ShengBin, having served National Service, was still an undergraduate. Knowing that they did not qualify for any CPF grants yet, the pair applied for an HDB Concessionary Loan with a
staggered downpayment
as a way to manage their finances.
While the first phase was paid using their savings together with some help from their parents, by the time they received their keys in 2015, they had enough funds in their CPF to complete their downpayment and make a
partial capital repayment
.
| | |
| --- | --- |
| 5-room BTO flat, Fajar Hills | Cost |
| Flat Price | $364,200.00 |
| Downpayment at signing of Agreement of Lease (5%) | $18,210.00 |
| Payment during collection of keys (5%) | $18,210.00 |
| Additional Partial Capital Repayment | $23,504.35 |
| HDB Concessionary Loan, 2.6% p.a., 30-year tenure | $303,775.65 |
| Estimated monthly repayments | $1,216.00 |
While they were encouraged to take a 25-year loan, Qian Kun shares that they opted for a 30-year tenure instead.
"I questioned, why pay over such a short period, which would mean we have to pay a lot [in monthly instalments]", she says. "We wanted to pay through CPF and didn't want to pay in cash, so we decided to go for as long a loan period as possible."
Opting for a longer loan tenure helped ensure a steady cash flow for the couple, which became all the more important when Eden came along. About five years after moving in, they began making plans to refinance their loan as soon as they heard about it from a friend in 2020.
| | |
| --- | --- |
| 5-room BTO flat, Fajar Hills | Loan details |
| Refinanced amount | $225,675.16 |
| Interest rate | 1.5%, 5-year lock-in, 1.8% thereafter |
| Loan tenure | 20 years |
| Estimated monthly/yearly savings | $100/month, $1,200/year |
With the help of a mortgage broker, they refinanced their HDB loan to a bank loan with DBS, which at the time offered additional benefits through the DBS Multiplier programme, such as a $2,000 rebate that they could use to offset the legal fees. The lower interest rates thanks to refinancing help the couple immediately save about $1,200 a year, though the savings are not immediately useable and instead help them grow their CPF funds.
Lesson learnt: Have an acute awareness of your finances and know who to contact for help with home loans, financial advice, and refinancing.
6. Have a Plan for the Foreseeable Future
When asked where they see themselves in the next five years, the couple confesses that they foresee still living in this flat, mostly with Eden's education in mind.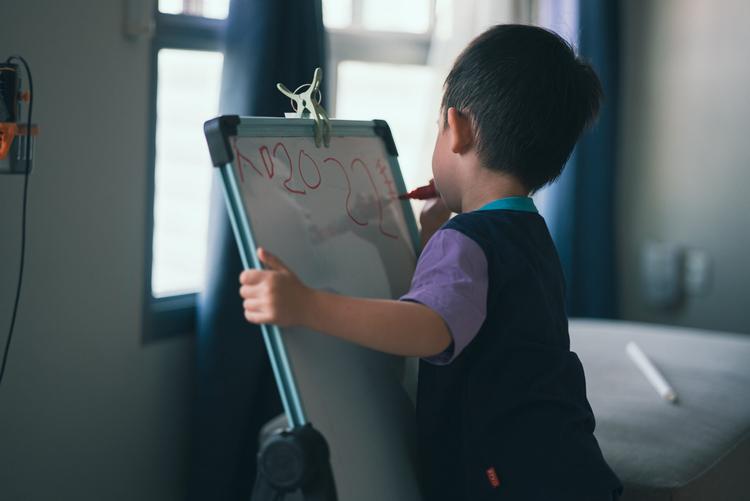 "We considered quite a lot, actually," Qian Kun starts. "After childcare, [the next most important consideration] is [the distance of the nearest] primary school, and we have three or four primary schools within 1km range."
Their considerations also included being able to conveniently travel to Bukit Timah, where ShengBin's and Qian Kun's alma maters are located, and where they hope Eden will one day attend school. That said, they are not ruling out moving, just in case Eden's future school is not in the area. Naturally, the move must be worth their while, given their penchant for spacious homes.
Lesson learnt: Think beyond your immediate needs and also consider any future needs your family might have.
7. Be As Hands-on As Possible When Selecting Your BTO Flat
While much of their BTO flat and home ownership experience has been smooth sailing, there was a small hiccup early on in their journey together which became an important lesson for the couple.
The slight setback occurred during their engagement trip in June 2012 when they had to ballot for their preferred flat unit. With a low queue number, they stood pretty good chances of getting the unit of their choice and were keen on getting a unit on a higher floor. The balloting was entrusted to a family member, but a misunderstanding resulted in the couple receiving a lower-than-expected floor.
While high floor and low floor
units
each have their own pros and cons, units on high floors tend to have better resale value than lower ones; albeit high floor units are also more expensive to begin with. Missing out on a higher floor means that the couple could also lose out on a better profit margin if they eventually sell their home.
If there was a thing in the entire BTO application experience that she could change, this was it, Qian Kun says.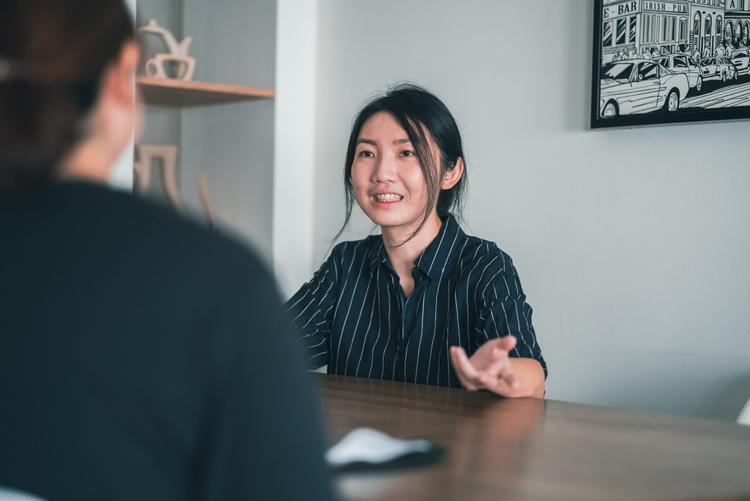 "I would not go on a trip during the flat selection!" she exclaims.
"I mean, you can entrust it to people, but you have to bear the consequences. Sometimes when we go to a neighbour's house on a higher floor, the view is different," she adds wistfully.
Lesson learnt: Don't leave the important decisions to others, as it may have long-term consequences.
Balloting for Your Ideal Home is Not Impossible
It's been almost seven years since ShengBin and Qian Kun moved in, and four years since Eden was born. As the couple reminisces their BTO journey together while Eden keeps himself occupied, the pair look truly content with their home.
While every couple's BTO journey will be different, we know from ShengBin's and Qian Kun's experiences that having an acute awareness of what you want and having a plan for the future can go a long way in making the experience smoother.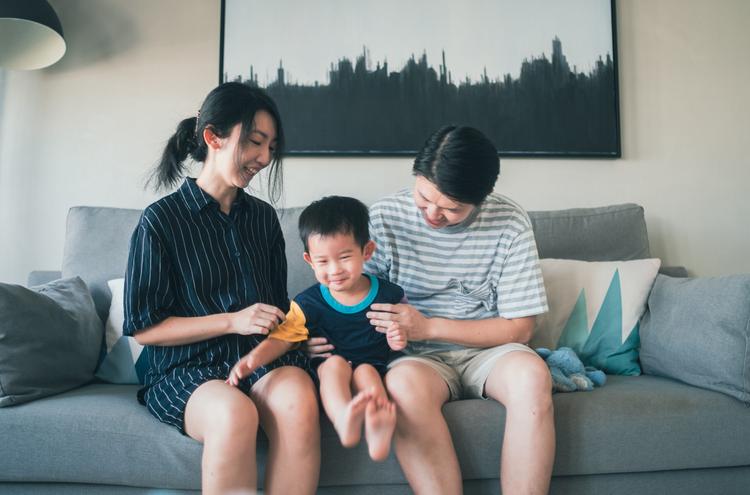 Knowing exactly how you want to finance your flat too, will make a difference – the couple's choice of monthly repayments only through CPF helps ensure they have sufficient cash for other expenses and was something they were not willing to compromise on.
If you have any doubts about making your first BTO ballot or need help with your mortgage and refinancing your home loan, reach out to our friendly and helpful
PropertyGuru Mortgage Experts
for personalised advice!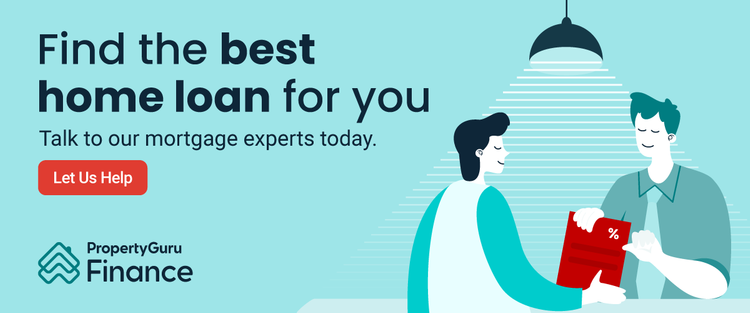 Chat with us on Whatsapp
Fill up an online form
Disclaimer: The information is provided for general information only. PropertyGuru Pte Ltd makes no representations or warranties in relation to the information, including but not limited to any representation or warranty as to the fitness for any particular purpose of the information to the fullest extent permitted by law. While every effort has been made to ensure that the information provided in this article is accurate, reliable, and complete as of the time of writing, the information provided in this article should not be relied upon to make any financial, investment, real estate or legal decisions. Additionally, the information should not substitute advice from a trained professional who can take into account your personal facts and circumstances, and we accept no liability if you use the information to form decisions.