One Holland Village Residences, part of a mixed-use development located within the soon-to-be-expanded Holland Village lifestyle and entertainment cluster, will be launched for public sale this Saturday (30 November).
Covering a total site area of 247,215 sq ft, the development by Far East Organization (in partnership with Sino Group and Sekisui House) will consist of 296 99-year leasehold residential units, 255 serviced apartment units, as well as offices, retail units and community spaces.
Notably, the residential component is housed across three, 65-storey blocks and given the names Sereen, Quincy Private Residences, and Leven. Made up of one- to three-bedroom units, Sereen will form the bulk of residential units at One Holland Village Residences, whereas Quincy Private Residences and Leven—27 and 21 units respectively—will likely be positioned as boutique, upscale concepts:
Name
Storeys
No. of Units   
Unit Types/Sizes
Sereen
34
248
484-1,098 sq ft
(1- to 3-bedroom)
Quincy Private Residences   
28 (L21-28)
27

1,238-3,358 sq ft
(3- to 4-bedroom duplex)
and 3,488 sq ft
(Penthouse)

Leven
3 + Roof Terrace   
21
807-1,087 sq ft
(2-bedroom)
Total number of units
296
Number of blocks
3
Far East Organization have yet to announce an operator for the serviced residences in the development, which will occupy the same building as Quincy Private Residences.
One Holland Village Residences: Pricing
With the multiple residential concepts and different positioning, prices for units between the concepts will vary. According to sources associated with the development, units at One Holland Village Residences' Sereen will range from $2,400 to $2,850 per square foot (psf).
Meanwhile, the 27 units at Quincy will be priced in the $3,200 psf range, whereas the 21 units at Leven will go on sale at a price range of $2,850 to $3,050 psf.
Facilities-wise, residents of One Holland Village will get a 50m lap pool, rooftop tennis court, lawn, dining and function room and barbecue pavilions.
One Holland Village will include a series of ground-floor public spaces divided into three zones: Commons Square, which can hold events such as weekend markets and outdoor performances; Communal Green, which is a courtyard flanked by shops leading to a water court and a terraced water feature; and Pocket Park, which opens into Lorong Mambong in Holland Village.
Interested in One Holland Village Residences? Submit an enquiry here
Large site a plus point: Far East Organization
One Holland Village, the first sale site of the Holland Village extension, was sold in 2018 under a dual-envelope (concept and price) tender format whereby the Urban Redevelopment Authority (URA) prioritised the concept of the proposed developments by bidders ahead of the bid price. Far East Organization won the District 10 site at an eventual bid at a price of $1.213 billion.
"Having an exceptionally large development site—more than three football fields in size—at the heart of Holland Village gives us the opportunity to inject more varied uses and activities. This will make Holland Village even more vibrant, and attractive not just to residents in the vicinity but will also draw visitors from across the island," said Marc Boey, director of planning and acquisitions for Far East Organization.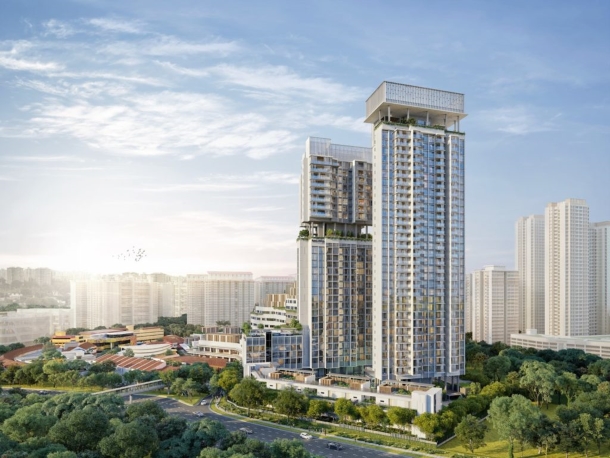 As a mixed-use site, One Holland Village will additionally have office spaces with 80,730 sq ft of GFA, and units measuring anywhere from 2,854 sq ft to 19,967 sq ft and spread across four storeys.
The development will also extend the Holland Village retail experience. Retail spaces will have a GFA of 145,314 sq ft, with units measuring 145 sq ft to 8,100 sq ft and occupying three storeys. Companies such as Cold Storage, Guardian Pharmacy and The Projector have already committed their tenancies.
One Holland Village is scheduled for completion in two phases. The residential zone, housing One Holland Village Residences and serviced residences, is projected to be attain Temporary Occupation Permit (TOP) by end-2024. The commercial zone, comprised of the retail, office and community spaces, is estimated to be completed by mid-2022.
Browse One Holland Village Residences details and units for sale, or check out HDB flats on sale in and around Holland Village