Unless you are very rich, buying a home here would entail getting a
home loan
, i.e., a mortgage. There are broadly two home financing options in Singapore: either an
HDB loan
(but only for HDB flats and only if you meet certain criteria) or a
bank loan
.
For the latter, each bank has its own criteria and risk assessment, so you might not always successfully obtain a home loan. We recommend reaching out to
PropertyGuru Finance mortgage experts
for more guidance.
But if your bank home loan application has been rejected by more than one or two banks, this could mean you do not qualify for a bank mortgage.
What should you do?
This article will walk you through your options if you don't qualify for a bank loan.
For HDB Buyers
If you are buying an HDB flat and don't qualify for a bank loan, then fortunately you might be able to rely on the
HDB housing loan
.
Apart from the housing type, there are also several criteria to meet. The main ones are:
At least one of the buyers is a Singapore citizen
Your household income does not exceed $7,000 a month (singles), $14,000 a month (families/couples) or $21,000 a month (extended families)
You must not own any local or overseas private residential property
The flat's remaining lease must cover the youngest buyer up to age 95
For Private Property Buyers
Private property buyer can only finance their home with a bank loan (or one from a financial institution). So, if you can't secure one, first find out why you don't qualify.
The loan tenure is too long: Regulations prevent banks from issuing home loans beyond age 65 in most cases. If you are 45, for example, you can therefore only apply for a 20-year loan at most. The solution here is to apply for a shorter loan. Learn more about loan tenures here.
Your income is too low and/or variable: You need to earn at least $24,000 a year (single applicant) or $36,000 a year (combined income of co-buyers) to get a home loan. If you earn variable income, banks will conservatively assume your income at 70% of your actual average monthly income. So you will need to make more than the stated minimum.
You have poor or no credit history: This can happen if you have a track record of not repaying credit in time or in full, or even if you've never had a credit card or loan before. If you can wait, your credit score should improve after a year of faithful card or loan repayments; otherwise, you can approach our mortgage experts for help. Read about the importance of a good credit score here.
TDSR (Total Debt Servicing Ratio) limits: In Singapore, the sum of your monthly debt repayments (including car loans, credit cards, and any other bank loans) must not exceed 60% of your income, or your application may be rejected. You might opt for a cheaper home or apply for a smaller/longer home loan to fit within the 60% limit. Check out our article on TDSR here.
Affordability Calculator
Estimate what you can comfortably spend on your new home
Are There Alternative Financing Solutions?
Apart from understanding why banks reject mortgage applications and trying to improve your situation, you may also consider alternative home financing methods.
One such solution is
AN LIVING Head Start
, a special loan that allows home buyers to unlock the value of their parents' home to finance their own purchase.
Note that the parents must be at least 55 years old, Singapore citizens or PRs, as well as meet any of the following criteria for accredited investors:
Income of at least $300,000 in the last 12 months, OR
Net financial assets of at least $1 million, OR
Net personal assets of at least $2 million (including your home, but it can only contribute up to $1 million)
With AN LIVING Head Start, parents pledge a portion (40% to 80%) of their home's value and convert it into an interest-free loan for 20 years. The cash disbursed can be used to pay for their children's housing.
At the end of 20 years, the parents can opt to extend the loan for another 20 years, repay the loan and keep the home, or sell the home. For the last option, AN LIVING will receive the pledged portion of the proceeds plus fees, while the parents keep the remainder.
Don't Qualify for A Home Loan? Don't Panic.
While it's certainly distressing to find out that you don't qualify for a bank mortgage, it's also not the end of the world and can usually be resolved one way or another. We hope the above article has given you an idea of what options might be available to you.
If you need more help, don't hesitate to contact
PropertyGuru Finance's mortgage experts
. Every home buyer is different, and our team will hear out your story before offering you advice tailored to your financial situation. This service is completely free and there is no obligation to take up any of the products we recommend.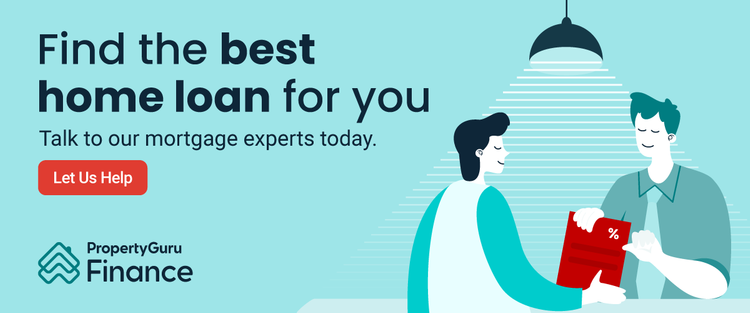 Chat with us on Whatsapp
Fill up an online form
Disclaimer: Information provided on this website is general in nature and does not constitute financial advice.
PropertyGuru will endeavour to update the website as needed. However, information can change without notice and we do not guarantee the accuracy of the information on the website, including information provided by third parties, at any particular time. Whilst every effort has been made to ensure that the information provided is accurate, individuals must not rely on this information to make a financial or investment decision. Before making any decision, we recommend you consult a financial planner or your bank to take into account your particular financial situation and individual needs. PropertyGuru does not give any warranty as to the accuracy, reliability or completeness of information which is contained on this website. Except insofar as any liability under statute cannot be excluded, PropertyGuru and its employees do not accept any liability for any error or omission on this website or for any resulting loss or damage suffered by the recipient or any other person.
This article was written by
Clara Lim
, who loves to read, write, and go on very long train rides. Her dream home is a tiny house in the woods, but she's currently living happily with her pets in a resale HDB flat.